Remember the Pebble smartwatch that was pledged from a Kickstarter crowdfunding campaign in 2012? Since then, it has turned into a huge brand in niche smart wearables segment and has been able to roll out new generation smartwatches with innovative features in the market.
Like Pebble, there are several other tech startups across the world, which need funding to bring their new products to the market.
Also read: Google Project Tango AR-phone Lenovo Phab 2 Pro finally goes on sale; here's everything you need to know
We dug deeper within the Kickstarter website and found some gadgets that should make it big in the tech world:
Bonjour AI-alarm clock:
Most alarms clocks in the market have become generic these days, as they come with the same features such as radio FM support and customised ring-tones. But these features can be replicated in a smartphone, thus making alarm clocks almost obsolete.
Well, France-based company Holi has got a new Artificial Intelligence (AI)-based alarm clock dubbed as Bonjour that can do much more than beeping high-pitched sounds to get you off the bed.
With Bonjour, you can wake up to a pleasant voice and interact with it like you converse with another person. In the morning, you don't have to make the effort to press the snooze button, you can just tell it wake you up after five minutes.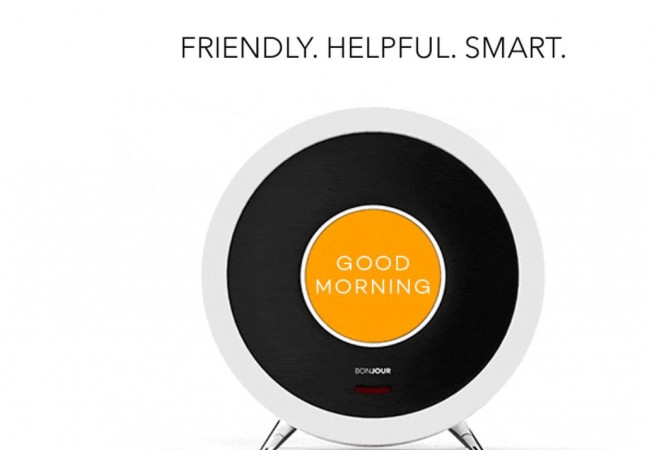 Another notable feature of this Wi-Fi-based Bonjour clock is that it can connect to the internet and learn your travel routes and also the meetings for the day. And if you forget to the predate the alarm timing, it will intuitively wake you up early to warn you of congestion on the preferred traffic route.
It also gathers details of real-time weather forecasts and news updates.
You can pledge a minimum of $99 or more to get yourself a Bonjour alarm clock. By doing this, you will also be funding the project. There are several other price tags, which offer more features.
Bonjour smart alarm clock demo video:
Flip smart stylus:
Though stylus has been there for a long time, we haven't seen much development in terms of innovation in the electronic pen sector. For instance, Apple Pencil, which was introduced with the iPad Pro, offers a few functions, such as taking notes and sketching pictures. But it has to be charged if used for long hours, and at $99, it doesn't come cheap.
If you are not interested in Apple Pencil, there is an affordable alternative — the Flip, made by the startup, Lynktec.
Flip uses a simple and unique method of communication with any iOS device, and includes features like 'flip to erase' and palm rejection. So you can do stuff on the iPhone or iPad just like you would with a pen and paper.
And guess what, Flip is powered by just magnets, and you don't have to charge it.
The company claims that Flip's patented software algorithms, developed by their software partner Widevantage, use the hardware already in the device (iPhones and iPads) to sense and detect Flip's magnetic field and determine the precise location and orientation of the stylus, so that palm rejection, flip to erase and other features work perfectly without ever needing Bluetooth or batteries.
It comes at a starting price of $60 and depending on bundle offers, goes up to $275.
Watch the Flip stylus in action here:
Vue:
Remember Google's ambitious pet project Glass, which looked promising at the beginning, but for reasons unknown, was dumped abruptly in February 2016. Google has resumed working on the new eye-mounted device under its 'Project Aura'.
While the Google device is still in the development stage, a fully-working and affordable model built by Vue is ready and in need of funds for mass production.
In terms of features and design language, Vue smart glasses is several notches above the awkward Google Glass. The latter houses a mini display uncomfortably close to the eye and its usability is very limited. Also, if you get any notification, you have to tilt your head to view it, which may distract you while driving.
The Vue smart glasses, on the other hand, may come across as a normal pair of spectacles from the outside, but they come incorporated with cutting edge technology. Its frame comes with embedded technology, including touch sensors to connect phone call wirelessly, and with the help of 'Bone Conduction' audio speakers it transfers stereo sound right into your inner ear without the use of earbuds. Your ears remain unplugged, so you can listen to music, answer calls, and hear notifications from your glasses while still being able to hear the world around you.
It can also track your fitness by calculating your movements and suggest workouts for you to burn more calories.
It also comes with a 'Find my glass' option, so you can locate your lost Vue glasses via your smartphone. It has several other value-added features, including wireless charging, navigation assistance and a long battery life of close to seven days.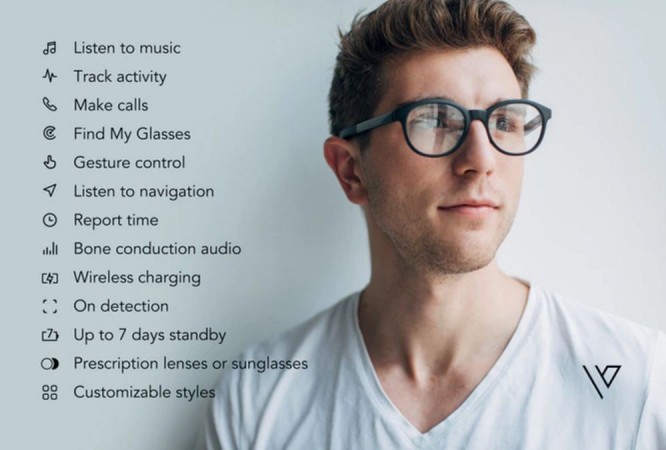 If interested, you can pledge a minimum of $5 or more to fund the project, and get yourself a pair of Vue smart glasses for $159 (prescription glasses will cost more).