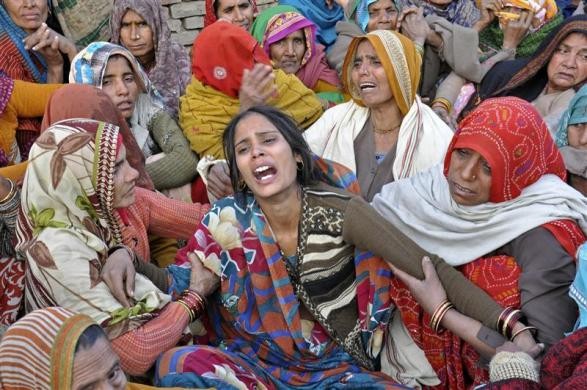 The family of Lance Naik Hemraj Singh entered into the sixth day of fasting, demanding the slain head of the martyr be brought back from Pakistan.
On Monday the fasting members of the family refused to consume even liquid stating that they would call off the fast only if Army Chief General Bikram Singh met them in person and assured them of bringing back Hemraj's head.
"We are not going to call off our fast if a leader comes here and request us to do so. We want the Army chief to come here and assure us that he will get Hemraj's head back from Pakistan. Only then we will call off our fast," said Hemraj's cousin Narendra, as quoted by PTI.
Hemraj's wife Dharamvati, mother Meena and cousin Narendra are being administered intravenous fluids on account of their deteriorating health and are under constant medical supervision.
"The family is refusing even to take any liquids. But we are maintaining their vital parameters. Dharamvati is being given IV fluid," Dr. Harshwardhan, Medical Officer at the Chatha Public Health Centre said.
The family's demand to meet the Army Chief came soon after Bikram Singh addressed a press conference in Delhi ahead of the flag meeting between brigade commanders from the Indian and Pakistani armies on Monday in which he said that the Indian army will retaliate if provoked. He also sympathized with the family and assured that all attempts will be made to ease the pain of the martyred soldier's family.
Naik Hemraj Singh and Lance Naik Sudhakar Singh, who served in the 13 Rajputana Rifles Regiment of the Indian army, were killed during a cross-LoC raid in Poonch district of J&K on Tuesday. Hemraj's body was found decapitated.