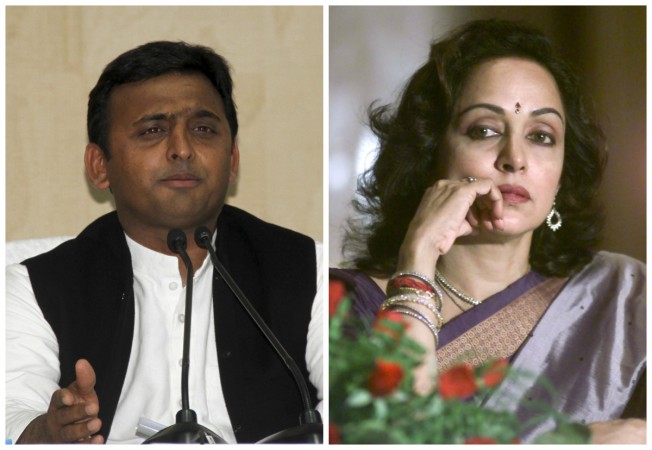 After Uttar Pradesh BJP Chief Laxmikant Bajpai on Saturday targeted Akhilesh Yadav's government, the UP Chief Minister returned the favour by taking a dig at Mathura MP Hema Malini.
"You hear the song of BJP MP's (Hema Malini) film 'Dharmatama'. Will it promote love or not?" Yadav questioned at journalist Pawan Kumar Singh's book launch "1857 Ki Kranti".
Starring Feroz Khan and Hema Malini, the film was a rehash of "Godfather". Essentially, "Dharmatma" is a love story between the son of a Hindu gang lord (Khan) and a Muslim girl (Malini).
The minister was of the opinion that the yesteryear actress of Bollywood didn't have any issues portraying controversial relationships on screen.
"Jab se tujhko dekha hai, dekh ke khuda ko maana hai, maanke dil ye kehta hai, meri khushiyon ka tu hai khazaana (Since I've seen you I've started believing in God. My heart says, you are my joy)," Yadav reiterated the lines of one of the songs from the film, Times of India reported.
A twist in the tale came in when senior Congress leader Shakeel Ahmed tweeted questioning if Malini and Dhramendra's marriage was a 'love jihad'.
"Present BJP MP Hema Malini and Dharmendra (14th Lok Sabha) were converted to Islam at the time of their marriage. Was it "Love Jihad"? Only BJP can say," Ahmad posted on the micro-blogging site.
Love Jihad, also known as Romeo Jihad, is a term coined by Hindu groups. It essentially means the alleged activity of Muslim men luring non-Muslim women for conversion to Islam by getting married.
Bajpai, on the other hand, had triggered the controversy at the two-day state party meeting in Vrindavan.
"Youth should be vigilant against love jihad. Why is the government lenient on those who indulge in such practise?" the minister asked, reported PTI.