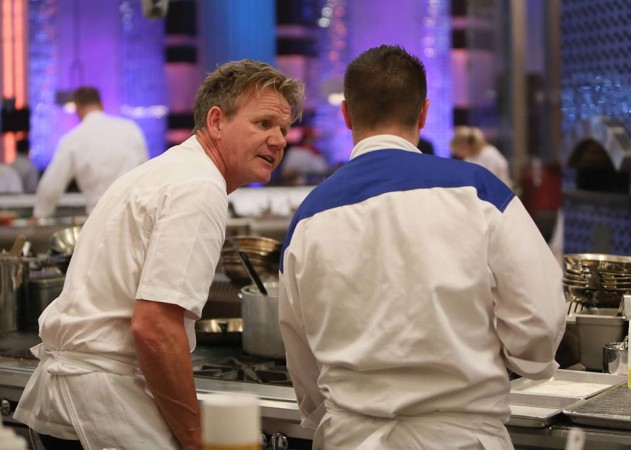 "Hell's Kitchen" is left with 14-chefs and one more will have to pack his/her bags by the end of the next episode of Fox's cooking show. As per recently released teasers, it could be Kalen Morgenstern or Brian Santos.
Celebrity chef Gordon Ramsay will be back on "Hell's Kitchen" season 13 episode 5 titled "14-Chefs-Compete" with a protein challenge. The contestants will have to correctly identify the proteins chef Ramsay has used in his five dishes from a selection of 40 different proteins, according to a teaser.
The video clip indicates that both the teams will be given around two-minutes to guess the protein and the red team will find it hard to identify the right ingredients used in the dish. Though the teaser does not show the performance of the blue team, it indicates that the red team will have a tough time in the fifth episode.
However, the winning team will get to spend a day with special guests, including water polo Olympians Tumua Anae, Genai Kerr and Shea Buckner, at Annenberg Community Beach House in Santa Monica. On the other hand, the losing team will have to prepare hand-grated cheese for the family night dinner service reported Broadway World.
Later on, both the teams will get engaged in dinner service. While the Blue team will get a chance to impress Ramsay, Red team might have some internal crisis.
A 30-second-long promotional video of the upcoming episode of "Hell's Kitchen" shows celebrity chef Ramsay getting mad at the red team as they serve dry Capellini. The footage also highlights contestant Roe DiLeo asking Kalen, "Kalen, did you bring that Capellini to the chef."
This might mean that she will be in the elimination list, as this is the second time Kalen is performing badly during the dinner service. Previously, she served raw meat to the VIP guests and the entire red team was kicked out of the Kitchen.
Meanwhile, another sneak peek video of the Fox cooking show indicates that it could even be Santos. The clip shows Ramsay aggressively asking Santos, "Why are you stupid?" and he replies, "I was trying to give you answer chef."
The viewers will have to wait until Wednesday night to know more about the elimination of "Hell's Kitchen" season 13 episode 5.
Watch the promo of "14-Chefs Compete" below: