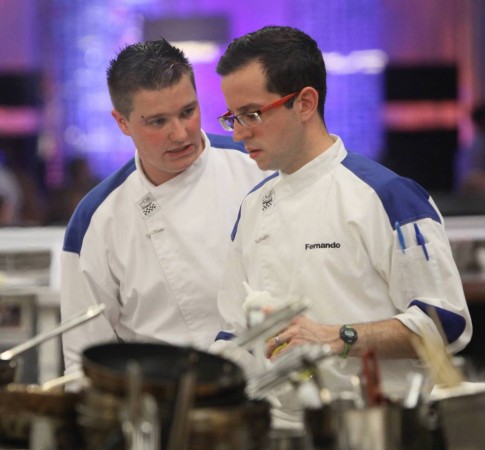 When celebrity chef Gordon Ramsay will be back on Fox with a new episode of "Hell's Kitchen" season 13, the contestants will get to enjoy a family night.
While the Blue team will get a chance to impress Ramsay, Red team might have some internal crisis in episode 5 of the Fox's cooking show, according to TV Grapevine.
Meanwhile, the Blue team had a tough time and JR Robinson had to pack his bags in the last episode of "Hell's Kitchen", which was aired on 24 September.
The competition for the day began with a surprise for the contestants and the viewers. For the first time in the history of Fox's cooking show, a culinary school graduation took place in the dining room.
The contestants were asked to prepare breakfast for the graduates and their families and friends in 20 minutes. Though both the teams showed their excellence in cooking, Red team won the competition, reports celebdirtylaundry.com.
They got a trip to San Francisco and a chance to meet renowned chef Dominique Chen, whereas the Blue team had to hand-grind meat and stuff sausages for dinner.
In the next level of competition, the Blue team gets into trouble once again due to the lack of team work and communication. Both the teams prepared Scallops and Salmons for dinner, but Ramsay got frustrated because of their bad performances.
Finally, the renowned chef had to send multiple contestants out of the kitchen as they served raw and over-cooked dishes to the guests. At the end of the show, boys suggested the names of JR and Steve for elimination and Ramsay added Frank in the list. However, JR was sent back home.