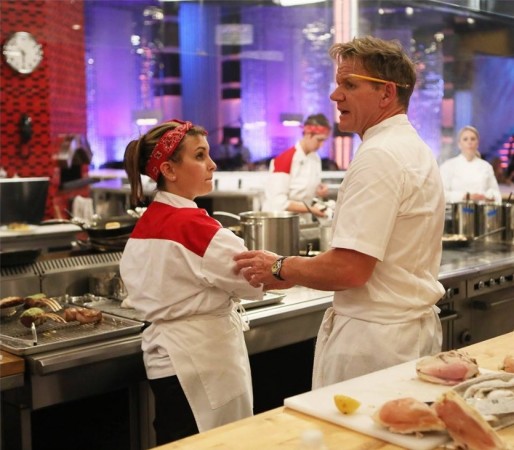 Disclaimer: This article features some spoilers about the third episode of "Hell's Kitchen" season 13.
When the "Hell's Kitchen" was back on Fox with new challenges and recipes, renowned chef Gordon Ramsay once again stressed on the importance of team work.
In "Hell's Kitchen" season 13 episode 3 titled "16 Chefs Compete", all the contestants received a new chef coat with a challenge on it. Every coat had a recipe on the back of it and the first challenge for the day was to make the dish with the help of other participates, according to celebritylaundry.com.
Each team got eight specific recipes and both the teams tried their best to make the dish perfect in the time limit given to them. The red team managed to bag the first point, but as the show progressed, the competition got tougher and finally the blue team finished the task on time.
They received a reward of zip lining, boardwalk and a gourmet lunch at Venice Beach whereas the red team had to prepare the kitchen for dinner.
As the blue team enjoyed their afternoon, red team grinded coffee beans to prepare table-side special steaks. But Denine Giordano did not seem to be interested in taking up the punishment as she believed that it was not her fault, reports gossipandgap.com.
During the dinner service, Fernando Cruz from blue team and Roe DiLeo from red team prepared the table-side steaks. As the competition began, both the teams were moving smoothly with appetizers, but gradually blue team had a tough time. Frank Bilotti was not able to garnish the dish and halibut was over-cooked whereas Bryant Gallaher and Sterling Wright served raw halibut.
On the other hand, red team also struggled with the dinner service as Kalen Morgenstern prepared raw meat and the team failed to serve dinner for VIP guests. Finally, annoyed by the performance of the red team, Ramsay kicked the entire team out of the kitchen and asked them to give the names of two nominees for the elimination.
The red team suggested the names of Denine and Kalen. However, Kalen managed to convince the celebrity chef and Ramsay decided to send Denine back home.