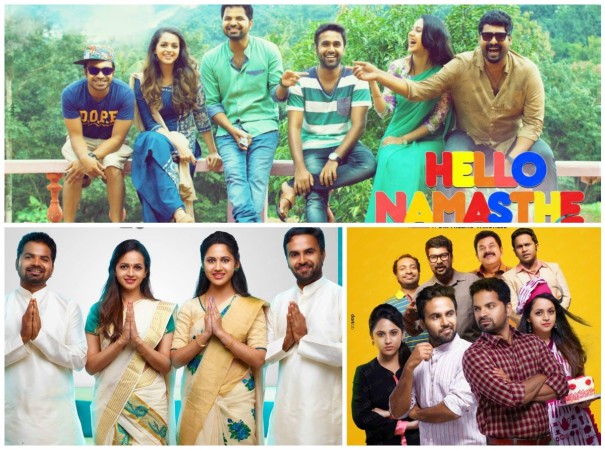 Jayan K Nair's directorial venture "Hello Namasthe" has opened to mixed reviews from critics and audience after it was released Feb. 19, locking horns with Khais Millen's "AakashVani" in Kerala.
While some audience call "Hello Namasthe," starring Vinay Forrt, Sanju Sivram, Bhavana and Miya, a clean comedy entertainer, critics have said that the movie lacks a proper storyline, which could have been improved. All the actors have been appreciated for their performance and Soubin Shahir gets a special mention for portraying the role of Abu in the comedy entertainer.
Plot
Vinay (Madhav) and Sanju (Jerry) work as radio jockeys for Hello FM station and their popular show is called "Hello Namasthe". Jerry and Madhav are not just colleagues, they are good friends and even stay in adjacent villas after getting married. Bhavana is seen as Madhav's wife Priya and Miya plays Jerry's wife Anna. A jackfruit tree that stands in between the two houses creates many issues issues between the two families and how it ends with the involvement of their neighbours and others is what "Hello Namasthe" is about.
The movie also has Mukesh, Aju Varghese, Joju George, Kottayam Pradeep, Muthumani, Swapna Treasa and Baby Akshara Kishore in pivotal roles. "Hello Namasthe" is the production venture of Dr Freemu Varghese under the banner of Freedia Entertainment USA. It has been scripted by Krishna Poojappura, the cinematography has been handled by P Sukumar and the music is composed by M Jayachandran.
Check out critics review on "Hello Namasthe" below:
"Vinay Fort and Sanju Shivram do their best to retrieve the film from the drain that it had fallen into, but end up worn out and exhausted. Bhavana and Mia, along with actors as Joju and Soubin pitch in their bits too, but in vain. There is not a word to be said about the technical aspects either, since ultimately none of it serves any purpose. Two hours of ceaseless rattle and clatter is what 'Hello Namaste' is all about. With a script that has had a ripe and rotting jackfruit drop all over it, this one is a real mess that will have you fleeing for your lives."
"With nothing fresh to offer, the content fails to offer genuine entertainment. The script, which looked very much in the same zone of all those Saji Surendran movies was given a better outlook by the director Jayan K Nair. The movie has failed to use its "jackfruit" factor in an engaging way. With an unsurprising story that gets very less unexpected turns to its credit, Hello Namasthe won't stay in your mind for any good reason. The cinematography looked good. Masala Coffee's song was good. The sound mixing sounded very poor."