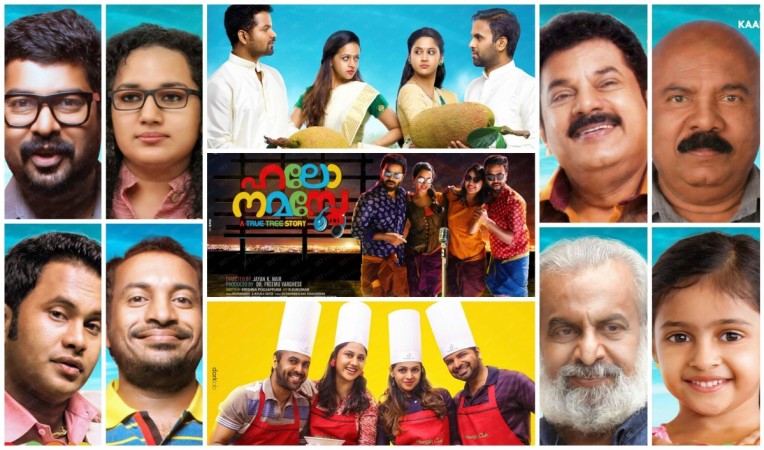 Multi-starrer Malayalam movie "Hello Namaste" ("Hello Namasthe") released Friday, Feb. 19, locking horns with Kavya Madhavan and Vijay Babu's "AakashVani" at the Kerala box office.
The movie, starring Vinay Forrt, Sanju Sivram, Bhavana and Miya, is the directorial venture of Jayan K Nair. Vinay and Sanju work as radio jockeys RJ Madhav and RJ Jerry, respectively, at a popular radio station. They are good friends and settle in nearby apartments after getting married. Bhavana plays a baker named Priya, also the wife of Madhav, and Miya plays Jerry's wife Anna, who works as an HR manager.
The movie also has an ensemble cast, with Aju Varghese, Soubin Shahir, Joju George, Mukesh, Muthumani, Kottayam Pradeep, Swapna Treasa and Baby Akshara Kishore in significant roles. "Hello Namaste," touted to be a comic family entertainer, has been scripted by Krishna Poojappura. The cinematography has been handled by P Sukumar and the music composed by M Jayachandran.
Check: AakashVani Live Audience Review
Check out live audience updates on "Hello Namaste" here:
Arun Gopinath
Hello namasthe is a clean family entertainer...another hit of 2016..congrats Sanju Sivram Vinay Forrt Joju George Aju Varghese and soubin
Ram ‏
#HelloNamasthe climax kollam Second half comedy kurava Nalla padam Hit aavum Bhavana and miya super Ivare kanan vendi thanne padathine kera
Bibin Mohan
Hello namasthe First half is decent.. convincing plot. Soubin marana mass