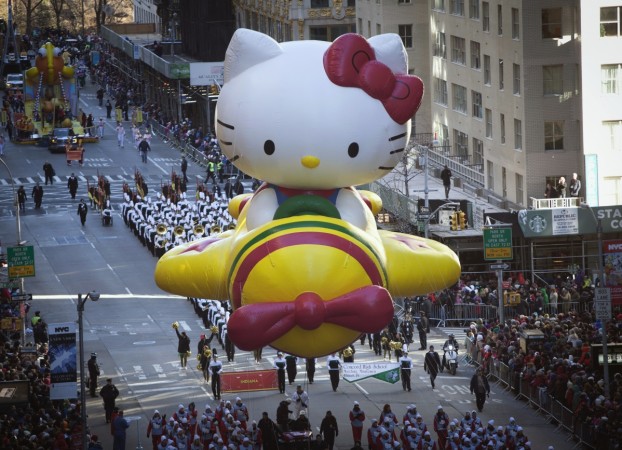 As the world's favourite 'kitty' celebrates her 40th birthday, a cat-astrophic news has shocked millions of her fans. Turns out, in spite of feeding us four decades worth of feline imagery, Hello Kitty is not a cat!
The character, who became famous by appearing on everything from bottles to lunch boxes to pajamas and aircrafts, is a "cheerful and happy little girl with a heart of gold," Sanrio, the Japanese company that designs, licences and produces products focusing on the kawaii (cute) - which includes Hello Kitty - says on its website.
The revelation was brought to light when a Hawaii-based academic, Christine R Yano, who wrote the book "Pink Globalization: Hello Kitty's Trek across the Pacific", asked Sanrio to fact-check the captions for an exhibition she was curating at the the Japanese American National Museum, to mark the 40th anniversary of Hello Kitty.
In her written texts for the exhibition, Yano had described Hello Kitty as a cat.
"I was corrected- very firmly," Yano told Los Angeles Times. "That's one correction Sanrio made for my script for the show. Hello Kitty is not a cat... She is a little girl. She is a friend. But she is not a cat. She's never depicted on all fours. She walks and sits like a two-legged creature."
The Sanrio website describes Hello Kitty as "a cheerful and happy little girl with a heart of gold." Born on 1 November 1974, making her sun sign Scorpio, Hello Kitty's blood type is A.
If this information blew your mind, then you definitely did not know the rest of her story. Hello Kitty, whose real name is Kitty White, has a twin sister called Minny White, who lives in an unnamed London suburb with her father George and mother Mary, according to the website. Despite having whiskers and pointy ears like the rest of her family, Hello Kitty has a cat of her own - and it's called Charmmy Kitty.
The news has left many Hello kitty fans confused and clueless.
"Hello Kitty is not a cat? So how about Spongebob? He's not a sponge?!" asks Bry Rivera.
"So Hello Kitty isn't a cat? Everything I know is a lie," posted Not Your Mother's Book Club.
While Hello Kitty fans remained aghast at the news, Katy Perry tried to cheer them up by posting: "IT'S OKAY HELLO KITTY FANS, KITTY PURRY IS A CAT."
The team at Funny or Die, meanwhile, wrote a slam poetry for Hello Kitty to vent the frustrations. The poetry ends with: "So STAND DOWN with your labels, which poke me like prickers / ...but be sure to check out my website for tons of cute stickers!"
Since her first appearance on a coin purse in 1974, Hello Kitty has become a global phenomenon and a friend to millions. Yano explains that she had special resonance especially with Asians who grew up in the United States.
"It's (Hello Kitty) something they (Japanese Americans who grew up in 1970s) saw as an identity marker. This is why the exhibition is being held at the Japanese American National Museum. It's about reconnecting her to this community. It gives the whole thing a certain poignancy and power."
According to the Sanrio website, Hello Kitty 40th anniversary celebrations include a "global Hello Kitty Hug-a-thon, the first official Hello Kitty Convention in the world, lots of supercute product introductions, and many more surprises!"