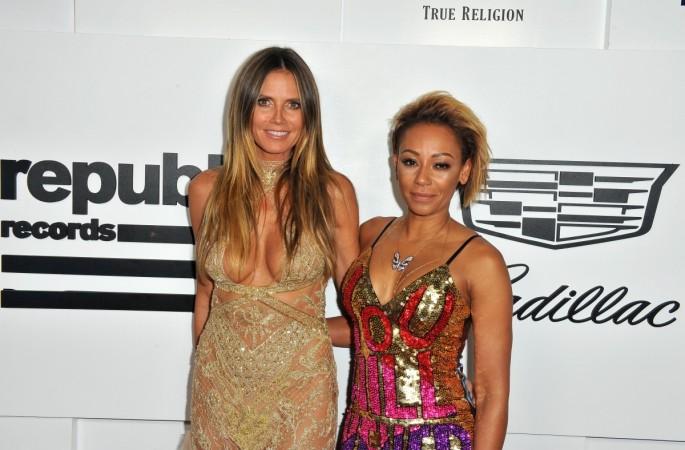 Heidi Klum is one hot model everyone has the hearts for. At the age of 42, the former Victoria's Secret model still gets jaws dropping by posting nude shower pictures on Instagram and wearing plunging gowns at award shows.
While we absolutely admire the diva, there is someone who has more than admiration for Klum. Rumour has it that Spice Girls member Mel B has the hots for Klum and wants to get romantically involved with her.
Also Read: Heidi Klum stuns in a plunging vintage pink and tan Gianni Versace dress [PHOTOS]
Take this rumour with a pinch of salt, considering that it comes from National Enquirer. The report claims Mel wants Klum all for herself and apparently the latter doesn't mind "spicing up her life."
The tabloid's insider claims: "'America's Got Talent' judges Mel B and Heidi Klum are guilty of being smitten with each other. Mel appears to have set her post-divorce sights on Heidi... Plenty of their co-workers and friends are sure they've become lovers."
After her break-up with Vito Schnabel, Mel has ingrained the thought in Klum's head that she doesn't need a man to make her happy.
"[Klum] is getting a lot more comfortable with the attention and is ready for Mel to spice up her life. Now that Heidi's single, she's open for others... Mel put it in Heidi's head that she didn't need to settle [with ex Vito Schnabel] and that she doesn't need a man to make her happy," the source states.
To add fuel to the fire, the outlet writes, "It was apparent the two became one when Mel and Heidi stunned onlookers by clinging to each other all night at a recent MTV Video Awards show."
Supporting their claim, a "spy from the scene," told the site, "They raised a lot of eyebrows because Mel was all over Heidi."
While these are some juicy claims, another set of sources told Gossip Cop that the two are just close friends and don't love each other "that" way. "While they've leaned [on] each other in the wake of the respective break-ups this year, they don't see each other "like THAT," the site reports.
Although this is a rumour, it could make for one sizzling couple. It is interesting to note that this is not the first time Mel has been associated with a woman.
Love "that" way or not, the two celebrities are spending a lot of time together. Klum and Mel spent Thanksgiving together this year. Mel B posted a picture on Instagram confirming this.
"When you and your best friend hang out together with ya kids too, you just have to have your quick girly girlpower chat haha @heidiklum her face says it all, I just LOVE this woman!!!! Yippeeeee #geminipowers #singlemothersworkinghard #womenempoweringwomen #ebonyandivory, [sic]" she captioned the picture.