Heidi, you've still got it. Heidi Klum celebrated Thanksgiving holiday by sunbathing in her pool and she did so, topless. The blonde beauty showed off her curves in an Instagram post where she is seen lounging at the pool with nothing on except for a tiny bikini bottom.
The supermodel seems to be getting younger with each passing day and we have a feeling that her boyfriend Tom Kaulitz may have something to do with it. The 29-year-old musician seems to be smitten with Heidi and we have to say, who can blame him?
Heidi has been flaunting her body a lot on social media as she recently posted a sexy lingerie photo of herself and it makes us feel a little self-conscious about our own post-Thanksgiving bods.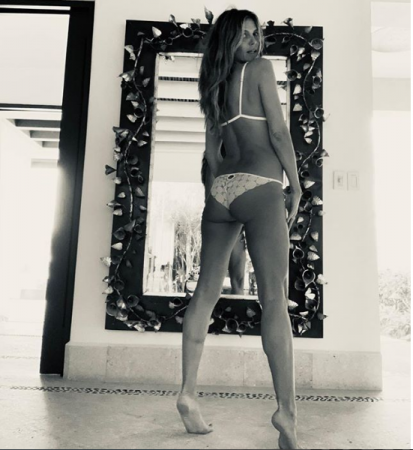 The Project Runway judge was modelling her own Heidi Klum Intimates swim line. And we have to say that she lucked out there. We can't think of anybody better to flaunt Heidi Klum swimwear than Heidi Klum herself.
Heidi Klum is still rocking the fashion world even after all these years. She is a former Victoria's Secret Angel, supermodel, reality TV star and entrepreneur. Is there anything this fierce lady can't do? We don't think so. If you got it you gotta flaunt it. You go girl.