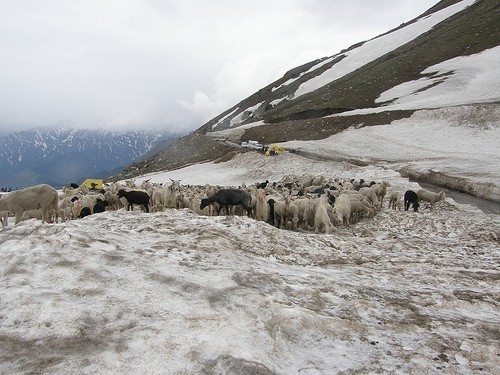 Hundreds of people and more than a dozen vehicles have been stranded in Keylong, a town 115 km from the tourist destination of Manali, in Himachal Pradesh.
The north Indian state experienced the season's first snowfall on Thursday with temperatures in Keylong dropping to 1.1 degrees celsius. The Indian Meterological department recorded 8 cm snowfall in the town.
Due to the heavy snowfall, Rohtang Pass (13,050 feet), located 52 km from Manali, was closed trapping hundreds of people in their vehicles. Vehicles from Manali to Lahaul could not go towards Gulaba.
Most popular tourist places in Himachal Pradesh received two feet thick snowfall on Thursday, reported India TV.
Tourist spots like Narkanda, Kufri, Dharamsala, Kalpa, Dalhousie and Manali received mild spells of rain. Shimla recorded a minimum temperature of 7.1 degrees; the maximum there was 14.2 degrees.
Prominent tourist town Kalpa in Kinnaur district witnessed a minimum temperature of 1.8 degrees. The temperature reached five degrees in Manali in Kullu district and 14.2 degrees at Dharamsala in Kangra district, said the met department.
The met office added that clouds would hover across Himachal Pradesh on Friday with rain or snowfall expected in some parts of the state.
Peaks around Gangotri, Kedarnath, Yamunotri, Hemkund and Badrinath also received heavy snowfall.
Apart from Uttarkashi, Harsil, Dayara Bugyal, Sotri Bugyal and Harkidoon also experienced snowfall and a sudden drop in temperature.
Ladakh in Jammu and Kashmir is currently the coldest place with temperatures reaching -1.5 degrees celcius.