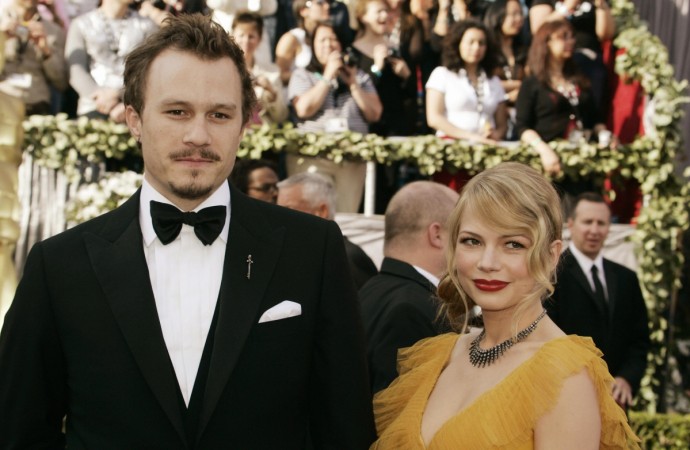 Heath Ledger's ex-girlfriend Michelle Williams secretly got married to her musician boyfriend Phil Elverum. Although Heath Ledger's family was not invited, the Joker actor's father had only nice things to say about Williams.
Kim Ledger, Heath's father, spoke to The Goss and said that he was happy to find out that Williams was married now and he cannot wait to meet Elverum.
"We are terribly happy, it is great," Ledger said. He hopes to meet the lucky man "soon." "She's very private and I don't really like to make too many comments about her, but we are very happy for her," he said.
Williams is a mother of 12-year-old, Matilda, who she conceived with Heath. She revealed she was married now in an interview with Vanity Fair. The 37-year-old told the magazine that "never gave up on love" after losing Heath.
"I always say to Matilda, 'Your dad loved me before anybody thought I was talented, or pretty, or had nice clothes.' Obviously I've never once in my life talked about a relationship but Phil isn't anyone else," she said.
"Ultimately the way he loves me is the way I want to live my life on the whole. I work to be free inside of the moment. I parent to let Matilda feel free to be herself, and I am finally loved by someone who makes me feel free," she added.
Sharing details from her secret wedding, Williams revealed that the nuptials took place in Adirondack Mountains earlier this month. The guest list included only a few friends, assuming BFF Busy Philipps was also there, and the newly married couple's daughter.
Elverum is a single father of a three-year-old. He lost his wife to with inoperable pancreatic cancer. "When you're a single parent, and that element of provider and protection is missing, it's scary," Williams told the publication.
"Don't settle. Don't settle for something that feels like a prison, or is hard, or hurts you. If it doesn't feel like love, it's not love," she said.
Congratulations you two!