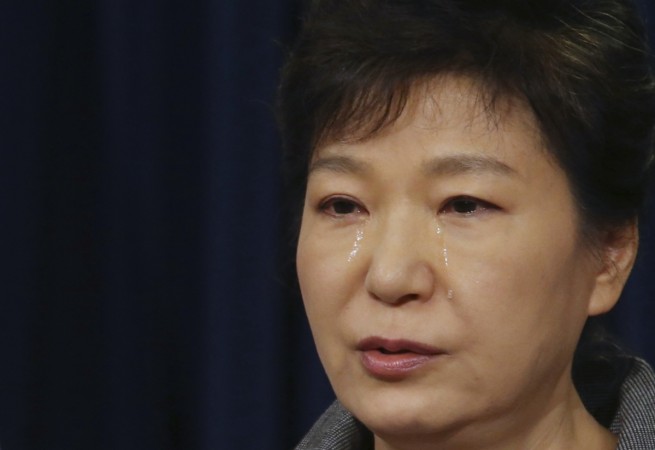 South Korean President Park Geun is under pressure as thousands of protesters are calling for her resignation after a leaked document accused her of letting her old friend – Choi Soon-sil, the daughter of a religious cult leader – interfere in important state affairs.
Park, who is serving in her fifth and final year of presidency, on Sunday, accepted the resignations of five of her senior presidential aides, including the chief of staff. Park on Tuesday had acknowledged that she provided long-time friend Choi Soon-sil drafts of her speeches for editing.
Choi Soon-sil also returned to South Korea from Germany on Sunday and said that she will cooperate with the prosecutors who are investigating allegations that she exploited her ties with Park to misappropriate funds from two of her nonprofit organisations that managed to gather about $70 million in corporate donations over a short period of time.
Though a Reuters report estimated that at least 30,000 people took to the streets, officials have attempted to downplay the demonstration claiming the numbers were closer to 8,000. Holding candles and signs reading "Who's the real president?" and "Park Geun-hye step down", protesters walked through the main areas of the capital city and gathered outside the presidential Blue House where they demanded that the investigation being conducted into Park's alleged mishandling of her presidential tenure be done thoroughly.
Park Geun-Hye has also publicly apologised in 2014 for her government's contentious response to a ferry accident in which over 300 people were killed. But she has not been the only South Korean president to do so.
In fact, every former South Korean presidency of the past three decades has been rocked by corruption scandals.
Roh Tae-woo went to jail for having accepted hundreds of millions of dollars in bribes; the sons of Kim Young-sam and Kim Dae-jung went to prison for graft. Roh Moo-hyun, who made a counter-corruption drive a centrepiece of his presidency, jumped to his death in 2009 as charges of wrongdoing mounted against him.
Sections of the public are cynical over the recent crackdown on gift-giving to officials to effectively deter high-level graft.