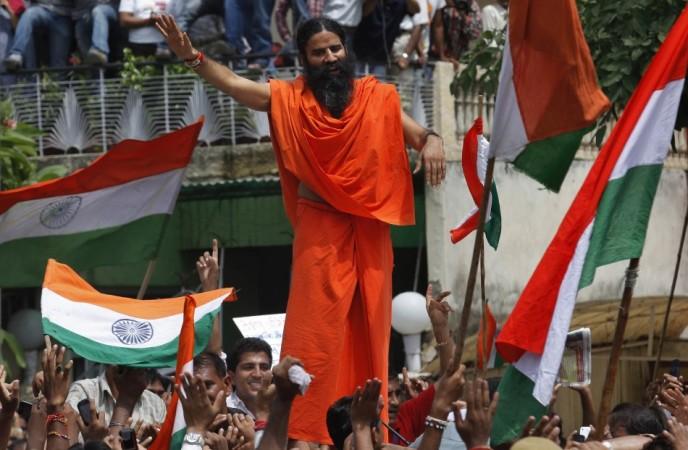 Anti-Corruption crusader Anna Hazare and yoga guru Baba Ramdev launched a day-long fast against the "corrupt" UPA government on Sunday along with thousands of supporters at Jantar Mantar in New Delhi.
Hazare and Ramdev paid a visit to the memorial of Mahatma Gandhi at Rajghat and both meditated for a while there before reaching the fast venue.
Ramdev's protest comes a day before the first anniversary of Ramlila Maidan fiasco; the Delhi police stormed the protest venue in the midnight of June 4, in 2011, and forcefully evicted yoga guru and his large number of supporters, who were protesting against black money.
The midnight crackdown by police also led to a death of a woman follower of Ramdev.
Hazare accompanied by Arvind Kejriwal and Kiran Bedi reached the Gandhi Samadhi from Maharashtra Sadan, where he was touring the state and gathering the support for his movement demanding the introduction of anti-corruption bill - Lokpal Bill.
Commenting on the importance of retrieving the Indian black money stashed aboard, Ramdev said that country's economic system is going through a tough time, with the constantly falling rupee value against US dollars and the growth rate. He said, however, the monetary problems can be countered if the black money comes back to the country.
"We need to bring back black money. I appeal to people of the country to join this fight. We are intensifying this fight. From today, we are intensifying our protest to bring back black money stashed abroad and want all of the countrymen to be part of the fight to finish by August," he said after paying tributes to Netaji Subhash Chandra Bose at Azad Hind Gram as reported by TOI.
Although Hazare is part of this day-long fast, all eyes are on Ramdev as he is expected to announce his ideas over the next Lok Sabha elections in 2014. Earlier, Ramdev had expressed his interest in public life, saying he would float his own political outfit in future.