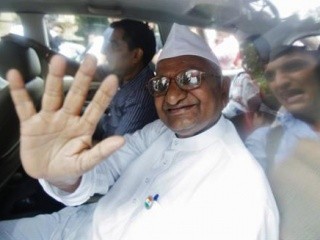 Veteran social activist Anna Hazare, who is spearheading India Against Corruption (IAC) movement, denied the media reports of a possible friction among his team members.
Some section of the media reported on Sunday that a rift started among the core committee members of IAC after Hazare and Yoga Guru Baba Ramdev announced their stand to work together in their campaign against corruption.
Speaking to reporters, Hazare said that they (Hazare and Ramdev) are not touring together, but as they are fighting for the same purpose of getting back black money and the Lokpal and Lokayukta bills, they would stand together and share the same stage when needed.
"There is no rift. What rift are you talking about? A team member who leaked information on Sunday, there was a problem. People in our team had asked why he did so. So he said he would not come back," CNN IBN quoted Hazare as saying.
"Right now, for over a month, I will tour Maharashtra. He has our support in his campaign against black money and we have his support on Jan Lokpal. We are all fighting together on tackling corruption," he added.
He also expressed the possibility of sharing stage with Ramdev during his nationwide tour by the end of June.
However, during a joint press conference on Saturday, both the leaders announced that the Yoga Guru would start his agitation against corruption and it would be followed by a joint fast at New Delhi's Jantar Mantar on May 3.
Hazare announced that they would visit 35 zillas in Maharashtra to awaken people against corruption, while Ramdev announced that he would visit other parts of the nation.
The announcement created a rift among the IAC members. Team members of the AIC claimed that they were not aware of the announcement, and neither the Yoga Guru nor Hazare consulted them about the latest development.
"If Anna decides on agitation, nobody will have objections. But the issue here is that Ramdev played one-up manship and he did not take Anna into confidence," CNN IBN quoted a member of Team Anna as saying.
To resolve any possible friction among the members of IAC and to discuss the future strategies of its campaign, a core committee meeting was held in Noida, near New Delhi on Sunday.
However, the meeting ended with a twist. One of the prominent team members of IAC, Mufti Shameen Kazmi was expelled from the group for allegedly recording the proceedings of the meeting using his mobile phone.