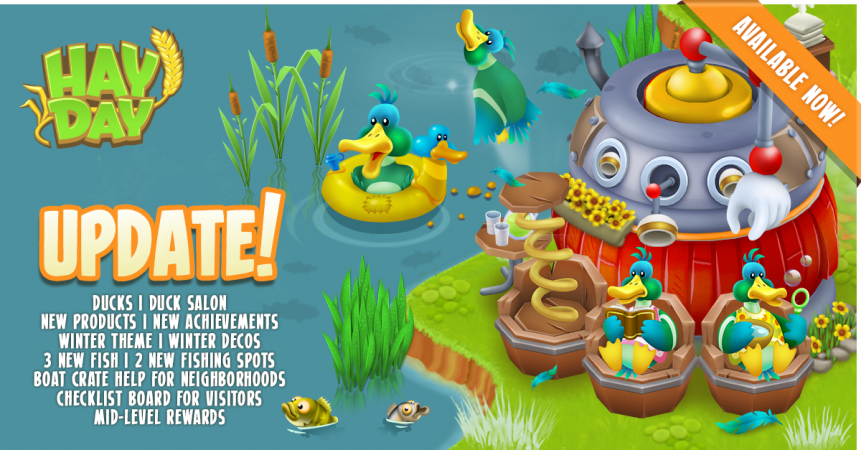 The developer, Supercell, has released a new Winter update for the free mobile game, Hay Day.
The update will bring in a host of features like Winter theme, ducks, mid-level rewards and new items. The patch also adds some of the features that were requested by the community including checklist board, additional boat crate and new achievements.
The patch will also add two new fishing spots and three new fishes in the fishing area. It also adds support for iPhone 6 and iPhone 6 plus.
Hay Day allows players to take the responsibility of looking after a farm where they can grow, sell and buy different items. This strategy game allows players to use co-operative gameplay by adding communities where the players will help each other in their needs. It also has chat functions that allow players to talk to other farmers in the group.
Hay Day was released initially on 21 June 2012 for iOS and later on 20 November 2013 for Android platforms.
Below are the complete patch notes for Hay Day (Supercell Forum):
Big Features:
Winter has arrived to Hay Day, with Holiday Season Decorations and jolly Music
Introducing new animals: Ducks
Travel to your fishing area and repair the new Duck Salon
Catch a Duck with your newly produced Duck Trap, and send it to the Duck Salon for a feather-cut
Upgrade the Duck Salon all the way to level 6 for more seats and funny animations
Wonderful side effect of the Salon service: Duck Feathers
Use Duck Feathers for new products: Pillows and Blankets
Other Features:
New mid-level rewards: collect additional rewards on the way to your next XP level (starting from level 15)
Tap your XP-level star icon to see upcoming content for your next level
The fishing area has been expanded with 2 new fishing spots, including 3 new fish
Improved visualisation when getting a rare item
Refreshed the level-up pop-up screen
Added seller XP-level to the newspaper
Tap on the Town visitor speech bubble while in the building to see any building upgrade bonuses
Added support for iPhone 6 and iPhone 6 Plus
Changed the look of withered nectar bushes
Community Requested Features
New checklist board next to the town platform on your farm: find out easily what your town visitors are asking for
An additional boat crate help request exclusively for your Neighbourhood friends
Help requests are now posted in your Neighbourhood chat
New Achievements for bees and ducks
Tom and Boat timers will pause during maintenances
Await our special events for the holiday and New Year season