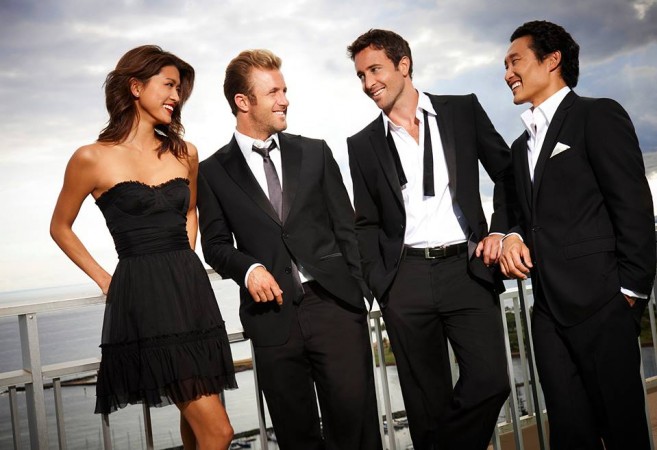 Filming for Season 7 of "Hawaii Five-0" has commenced with the cast and crew of the drama taking part in a blessing ceremony held at Waikiki Beach. The cast including Alex O'Loughlin, Daniel Dae Kim, Grace Park, Chi McBride, Jorge Garcia, Sean Garnett, Teilor Grubbs, and Dennis Chun, was present, along with executive producer Peter Lenkov.
The cast did not reveal what was in store for their characters in Season 7, but O'Loughlin noted that it was sure to be an interesting combination of love and torture.
"I don't know what Peter has in store for us," the actor told Hawaii News Now. "I'm sure he has all sorts of love and torture and a combination of the both." Lenkov admitted that he hasn't revealed much to his actors, as he doesn't want them to get ahead of themselves. "I think they like it that way," he said. "I think they look forward to reading each script and getting surprised, seeing where their character is going."
Season 7 will see O'Loughlin's character Steve McGarrett reflecting on his past choices and wondering about his legacy. There will be a change in his outlook towards life as he had a near-death experience in the Season 6 finale.
"He just starts to reflect on everything, the choices that he's made and looks for a reason to continue doing what he's doing," Lenkov revealed to Entertainment Weekly. "That's going to play a little bit of a theme next year. McGarrett may be being a little more aware of his mortality, and also his legacy of 'what am I going to leave behind?'"
The Season 6 finale saw Danny donating a part of his liver to his best friend and partner, and this has made him and McGarrett blood brothers. But this will not prevent the duo from butting heads, as there will come a point when Danny feels that McGarrett isn't taking care of himself.
[The transplant] brings Danny and McGarrett even closer together and it gives them another thing to be arguing about next year," Lenkov told Entertainment Weekly.
"Hawaii Five-0" will return to CBS on Sept. 23.