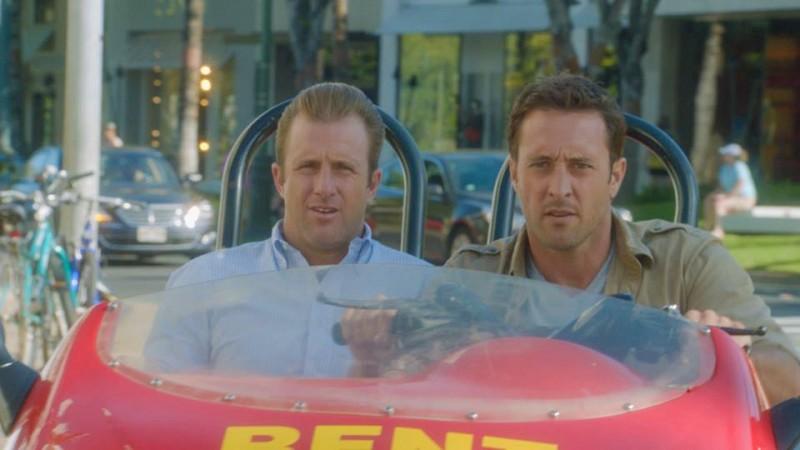 "Hawaii Five-0" will return to CBS in September, and promotional photographs for the first episode of Season 7 show Steve McGarrett up and about after his liver transplant in the Season 6 finale.
As fans of the police procedural drama know, the previous season saw McGarrett fighting for his life and Danny donating a part of his liver to his best friend to save his life. But McGarrett's disregard for his health is going to cause a bit of trouble in his relationship with Danny.
"There is an arc with Danny trying to get McGarrett to slow down a bit and appreciate the fact that he's been given a second chance — or fifth chance, maybe sixth, based on all the stuff he's gone through in the series," showrunner Peter M. Lenkov told TVLine. While McGarrett is hesitant to slow down, considering the team will be entrusted with the task of finding a serial killer in the Season 7 premiere, "he does start to start question his mortality and the choices he's made," Lenkov said. "What he's gone through has definitely had an effect on him."
Meanwhile, new information regarding the 150th episode of "Hawaii Five-0" hints at some familiar faces returning, and the status of McGarrett's relationship with Catherine being addressed. While she will definitely be a part of the episode, fans shouldn't hope for a romantic reunion between her and McGarrett, warns Lenkov.
People are interpreting it like her coming back into the relationship and starting all over again, but I just don't think that can happen after all that these two have gone through," Lenkov told Entertainment Weekly. "Her relation to the story is more plot driven than reigniting that relationship."
"Hawaii Five-0" will air Season 7 episode 1 on Sept. 23.
The synopsis for the premiere episode reads: "The team hunts for a murderer who has been targeting serial killers, marking their corpses with an ivory chess piece; McGarrett confides in someone with a special connection to the team."