RATING: 2/5
MOVIE: Hate Story 4
CAST: Urvashi Rautela, Karan Wahi, Vivan Bhatena, Ihana Dhillon
DIRECTOR: Vishal Pandya
GENRE: Erotic Thriller
Eroticism and thrill could be a good combination, but when the former overpowers the latter, the outcome often turns out to be cheesy and clichéd. And too much of melodrama could further worsen the overall experience. That's what happened with Hate Story 4.
Storyline
Casanova rich guy Rajveer Khurana (Karan Wahi) and his equally spoilt brother Aryan Khurana (Vivan Bhatena) are on the lookout for a beautiful and fresh face for a big modeling campaign. Rajveer comes across Tasha (Urvashi Rautela), a gorgeous girl who wants to become a star in the glamor world.
Rajveer instantly falls for her beauty and gets her on board for the project, primarily to develop a sexual relationship with her. However, he eventually falls in love with her and wants to marry her.
On the other side, Aryan, who is already in a relationship with his business partner Rishma (Ihana Dhillon), secretly eyes Tasha. Things take a nasty turn when Aryan spikes Tasha's drink and takes advantage of her in the absence of his brother and girlfriend.
While Aryan somehow manages to convince a hurt and disturbed Tasha to keep the incident a secret, things get worse when they receive pictures of their one night stand on their mobile phones from a blackmailer.
After a lot of twists and turns, Rajveer gets to know about the duo's "little secret". Totally shattered by the betrayal, Rajveer seeks revenge. However, the plot is not as simple as it sounds because it involves multiple twists. Watch the movie to know the answers to questions like who the blackmailer is, what their motive is and what ultimately happens to the characters.
Performances
This is certainly Urvashi's most-talked-about film as she plays the lead in it. Her character is a pretty powerful one, but her performance lacks the required power. Although she is good in certain parts, Urvashi has a long way to go when it comes to her acting skills, at least for characters like these. However, she gets full marks for her oomph factor.
Karan as a playboy with deep pockets appears all right, but he too has to understand the difference between acting on the small screen and in films. Ihana as a Bollywood debutant is fine. Vivan is comparatively convincing in his performance. Gulshan Grover as the father of the two male leads does not have much to do, but brings some entertainment with his one-liners.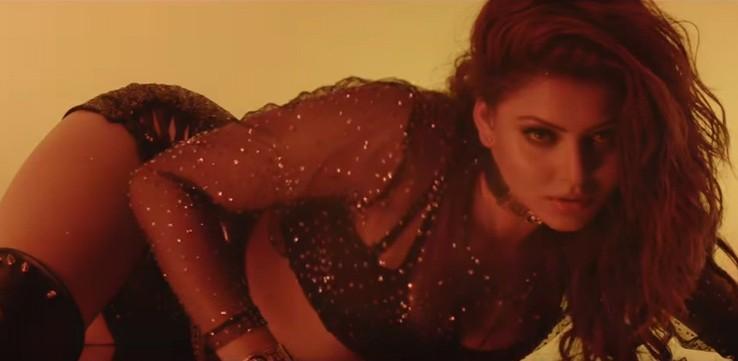 Positives
Hate Story 4 has a good number of interesting twists and turns to surprise you. The transitions are free from any confusion, and go well with the changing plot.
The songs are nice and well-choreographed. Urvashi and Ihana's lip-locks and skin show are quite steamy.
Negatives
The worst part of this erotic thriller is the melodramatic dialogues. One-liners like "Laashein rishwat nahi leti ... kyun ki kafan ko jeb nahi hoti (Dead bodies don't take bribes, because shrouds don't have pockets)" are just too cheesy.
The melodrama is not restricted to the dialogues. In one of the scenes, Aryan comes to kill Tasha, but instead of doing what he intended, starts narrating a story to her. As if that was not enough, Tasha tells him a story as well, and he listens patiently!
There are some other holes in the plot that don't go unnoticed.
Verdict
Overall, Hate Story 4 could have been a better watch if the director would have put more concentration on adding thrill to the film rather than melodrama and eroticism.
Go for it only if you are a die-hard fan of Urvashi, and not of the Hate Story franchise.