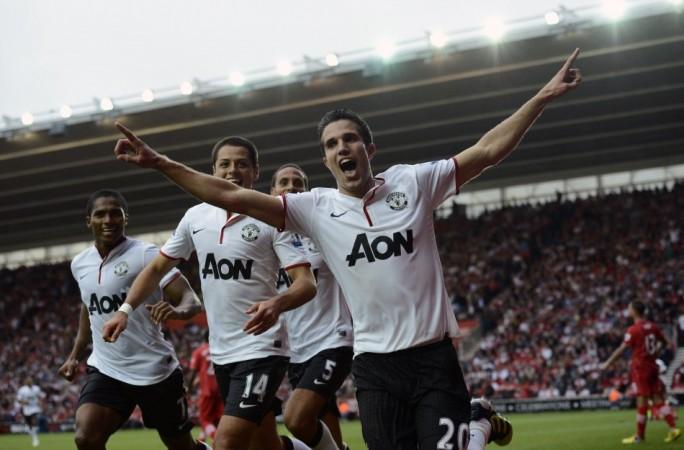 Robin van Persie, Manchester United's new import from Arsenal, said that he was disappointed with his penalty miss against Southampton on Sunday in spite of scoring a hat-trick to seal his team's 3-2 win. That speaks volumes - he wants everything to work out right.
Southampton's Rickie Lambert headed Jason Puncheon's cross into the net in the first half to take a surprise lead over Manchester United. Then Van Persie equalized the score with a shot from the left corner of the box.
It looked as though Sunday was Southampton's day, as Morgan Schneiderlin scored in the second half, and Manchester United side look gloomy until Van Persie was brought down inside the box by Jos Hooiveld. The Dutch striker took the spot kick - adjusted the ball, took a few strides, waited for Kelvin Davis to fall to the ground and tried to chip in the ball with his left foot only to be saved by the Southampton goalkeeper.
Van Persie was so disappointed with his penalty miss. "I don't know what I was thinking," The Telegraph quoted Van Persie as saying.
"I wanted to hit it hard, like I always do. In the last second I just changed somehow. It wasn't good enough. I'm quite disappointed about it. I ask a certain standard from my game. When you are 2-1 down, you can't take a penalty like that. It is me to blame. I don't know what went wrong, something went wrong big time and I'll have to work on it," he added.
The missed penalty would have been the talking point had Manchester United lose the game. That seemed to have made Van Persie so disappointed with his lazy shot.
However, he made up the miss by scoring two goals as the game neared the final whistle. He sent the cross-bar rebound from Rio Ferdinand's header into the net and then headed another goal from a corner kick in the final minutes, sending Coach Sir Alex Ferguson into jubilation.
But Robin van Persie would jubilate only if he had converted the penalty!