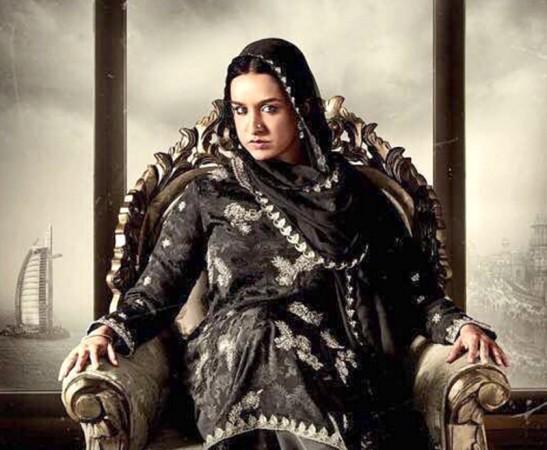 It's Friday, September 22, and moviegoers are in for a treat with yet another biopic of Mumbai's most dreaded don Dawood Ibrahim's sister Haseena Parker that will give them an insight into their underworld activities.
Shraddha Kapoor plays Haseena Parker whereas Siddhanth Kapoor portrays Dawood Ibrahim, the most wanted don, in the film alongwith Ankur Bhatia who is Shraddha's onscreen husband.
The buzz around the movie has been quite low than expected, ever since the film's trailer was released online. Shraddha Kapoor has surely taken a big risk by choosing such a strong, mature character so early in her acting career.
But going by the trailer, many felt that the actress should've opted herself out as she looked a misfit for and she misearbly failed to don that menacing demeanour of an underworld woman.
On the other hand, her real and onscreen brother Siddhanth Kapoor has done a fair job in bringing out that gangster quality, similar to what he did in Shootout At Wadala.
While the movie has already been released in theatres across the country and reviews have started pouring in from the film critics who have now pronounced their verdict. Take a look:
Urmimala Banerjee of BollywoodLife.com said, "Juvenile story-telling, melodrama and a shaky lead actor does not take Haseena Parkar to the level, it was expected to. Shraddha Kapoor is very patchy throughout the film. Siddhanth shows promise in the initial stages but then his presence is brutally reduced in the film."
Renuka Vyavahare of Times of India said, "The crime drama fails to offer an insight into Haseena's life whatsoever as an individual, beyond her infamous identity as Dawood's sister. While the intention is still subjective as it's a filmmaker's interpretation of a character, the film's biggest drawback is its lack of depth."
Shubhra Gupta of Indian Express said, "Shraddha Kapoor manages the young wife-and-mother part well enough, but her transition to the other side is never fully realized."
Suhani Singh of India Today: "Suresh Nair's screenplay lacks depth about its female protagonist. ...It's a more physical and less internalised performance from Shraddha Kapoor who despite putting on a deep drawl and dark foundation lacks a compelling presence to pull off the menacing woman of the underworld. Siddhanth Kapoor gives Farhan Akhtar stiff competition in being the dullest Dawood Ibrahim on screen this year."
Rohit Bhatnagar of Deccan Chronicle said, "Haseena Parkar is a superficial drama with no grit. The film has only glorified dialogues that has no real meaning to it. Apoorva fails to create the era of 1970's and the misfit cast spoiled the rest of it."
Rachit Gupta of First Post writes, "Haseena Parkar could have been a real thriller had it been serious about telling serious story. But it tries to add too much masala and style to story and serves up absolutely no substance."
Satish Sundaresan of Koimoi said, "For all those who savour and relish gangster dramas, Haseena Parkar can be seen just once, even though it does not qualify to be a 'must watch'. Secondly, those who idolise Shraddha Kapoor as an actress and worship Apoorva Lakhia as a film maker, you can also watch this film, despite the jarring screenplay."
Going by the critics' verdict, it looks like Haseena Parker is going to have a tough time raking in moolah at the box office. Let's wait and watch.
Director: Apoorva Lakhia
Stars: Shraddha Kapoor, Siddhanth Kapoor and Ankur Bhatia
Stay tuned for more updates.