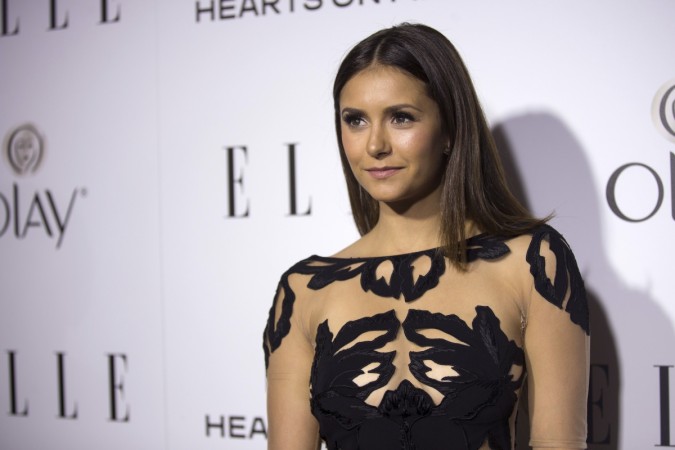 "The Vampire Diaries" actress Nina Dobrev has sparked rumours of rekindling romance with one of her former boyfriends after it was reported that she was gearing up to take part in "Dancing with the Stars".
Now that Dobrev has bid adieu to The CW's vampire drama, fans are excited to find out what her next project would be. According to HollywoodLife, siblings Julianne and Derek Hough are urging Dobrev to take up "Dancing with the Stars".
"Nina has been asked by both Julianne and Derek to join the show," a source told the media outlet. "And if she does it next season Derek will be her partner. And Nina is really considering it. If she doesn't have a job by the fall she will do it."
Dobrev and Derek dated for about three months in 2013, but distance and hectic work schedules made it difficult for them to continue seeing each other. "The Vampire Diaries" actress met Derek through his sister Julianne, who is one of Dobrev's best friends.
While it's too soon to say if Dobrev will take part in the dancing reality show, speculations are rife that Dobrev and Derek's failed romance could be rekindled if she were to partner with him.
Last year, Dobrev and Derek sparked rumours of a reconciliation when the pair was spotted together at the Roosevelt Hotel in Los Angeles. They were reportedly flirting with each other.
"He took her and grabbed her and started dancing with her, basically throwing her around and she loved it," a source told HollywoodLife at the time. "They were talking close and holding each other and she was laughing at everything he said, she was enamored and definitely was equally flirting with him and he was really trying to impress her."
Dobrev's romantic life has constantly been in the news since her split from Ian Somerhalder, her "The Vampire Diaries" co-star who she dated for about three years before calling it quits in 2013.