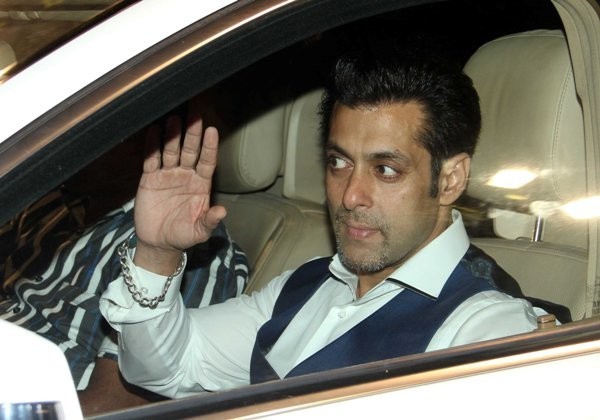 Superstar Salman Khan has apparently given his approval to Karan Johar's magnum opus "Shuddhi."
Recent reports had hinted that the "Dabangg" star was in consideration for Johar's film and now it has surfaced that the director indeed had approached Salman with the film's script.
Salman is said to have seen the script about 10 days back, when Johar went to the actor's place in Bandra and updated him with the details, according to Mumbai Mirror. Salman, much to the filmmaker's relief has reportedly approved the film's script, but his association with the film is yet to be made official.
"Salman loved the story but they have yet to discuss dates and money. Karan has wanted to cast Salman for years. It could finally happen. The modalities are being worked out now," a source informed the daily.
Johar and Salman's association doesn't really come as a shock due to the duo's new found friendship. Additionally, Salman had openly stated that he wanted to work with Johar for the longest time, but the director had never considered him for another project after "Kuch Kuch Hota Hai". The superstar had made the candid confession during his debut appearance on "Koffee with Karan" last December.
The "Jai Ho" star's name came up, after a host of actors like Shah Rukh Khan, Ranveer Singh and Aamir Khan were speculated to feature in "Shuddhi". The film made headlines in relation to the cast after Johar's original choice Hrithik Roshan opted out of the film earlier this year.
It was rumoured that Shah Rukh, Johar's favourite was initially approached for "Shuddhi". But he is said to have turned down the film via an email, which aggravated the supposed tensions between Johar and the actor.
There were also strong reports that Singh was being considered for the male lead. While both the actor and filmmaker kept denying the news, it later emerged that Singh had opted for Sanjay Leela Bhansali's "Bajirao Mastani" over the former.
Even Johar's new friend Aamir's name came up for the film and the director is said to have gotten in touch with the superstar twice with the film's script. However, the "Fanaa" actor turned it down on both the occasions
Surprisingly there seems to be no bad blood between the actors and the filmmaker.
Meanwhile, the film's team also has a daunting task of finalising the female lead for the film. Post Kareena Kapoor's exit from the project, Deepika Padukone's name was speculated since the "Chennai Express" actress had expressed a desire to appear in the film. But the actress' name fell short when it emerged that she had chosen Singh starrer "Bajirao Mastani" over Johar' project.