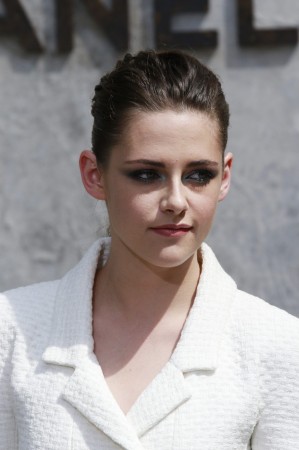 It seems Twilight star Kristen Stewart has taken her breakup with long-term boyfriend Robert Pattinson so badly, at least that's what her body language suggested during her recent outing.
The 23-year-old actress looked gloomy when she was caught taking a stroll with a pal during a break from filming her latest movie Camp X-Ray in Los Angeles, reported The Sun. She was spotted wearing a black skinny jeans and a see-through white top that revealed her black bra.
The report came just on the heels of a report claiming that Robert Pattinson is desperately missing Kristen though he was the one who called it quit.
"He seems obsessed with her," a source told OK! Magazine. "He thinks about Kristen all the time. Sometimes he starts to send a text, then changes his mind. It seems Rob can't let Kristen go."
The celebrity couple ended their on-again off-again relationship in May. They relationship hit bottom rock last year after the latter revealed her affair with director Rupert Sanders. They made up after a short split before eventually breaking up again.
It was earlier reported that Robert Pattinson had moved and dating Kristen's friend Riley Keough, who is the grand-daughter of King of Rock and Roll, Elvis Presley.
It was reported the 27-year-old Twilight actor has been spending a lot of time with Keough of late. The Daily Mail reported that they are planning to spend 4 July together before Pattinson starts filming for "Map To The Stars" in Toronto on Monday.
"They're inseparable. Rob loves the fact that Riley is Elvis's granddaughter - that's true Rock'n'Roll royalty in his eyes," a source close to Pattinson told Daily Mail.
"The relationship is very new but they've got close quickly and are hanging out together a lot, enjoying each other's company," a source close to the Presley family told The Mirror.
Pattinson came to know Keough through Stewart. They grew closer during the Dior events in the last couple of months. Pattinson is the face of Dior Homme and Riley was a former Dior model.
Stewart was not happy with the way Pattinson had moved on so quickly after being in a relationship for four long years.