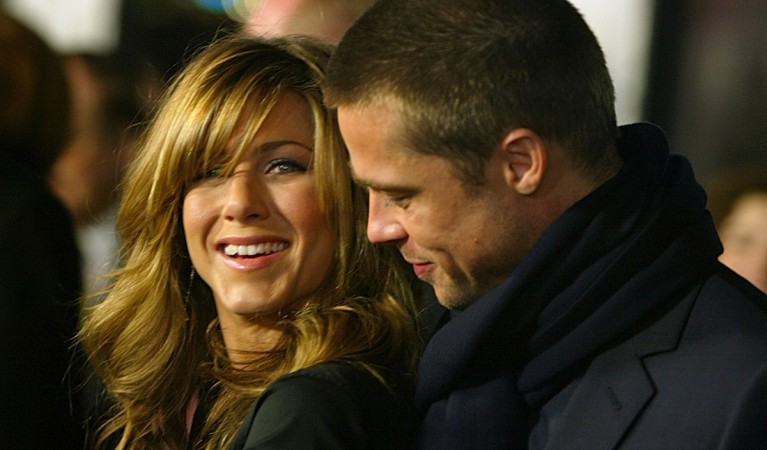 A year since Hollywood's biggest and shocking split, Brad Pitt and Angelina Jolie show less to no signs of reconciling. There were rumours that following the Brangelina separation, Pitt might have reached out to Friends actress and ex-wife Jennifer Aniston to resolve things with her.
While there have not been official reactions from Aniston's side on her ex-husband's separation, reports suggest that star has forgiven Pitt for choosing Jolie over her.
Also Read: Angelina Jolie, Brad Pitt ready to mingle again?
A report published by The Inquistr claims that after the nasty split, Pitt is out to fix his wrongdoings. And as part of his mission, he has chosen to mend things between his former spouse. It was earlier reported that Pitt has formally apologized Aniston for leaving her for the Maleficent actress.
Now, claims suggest that Aniston has chosen to forgive Pitt. "The Just Go with It actress has accepted Brad's apology and wants to be his good friend for a lifetime," the site reveals.
It adds, "Earlier this month, the Ocean's Thirteen star reportedly approached the Marley & Me actress and said sorry for everything he had put her through. An insider revealed that he was determined to apologize for his bad behaviour and rudeness, and all the hurt feelings Jennifer had suppressed for years came flooding to the surface."
Jennifer has reportedly "accepted his apology and asked him to focus on his career." The website adds that while the two celebrities have set aside their differences, that wouldn't mean that Aniston and Pitt will be getting back together.
The claims come a few weeks after InTouch magazine reported that Aniston broke down following Pitt's love confession. Sources told the magazine that Pitt and Aniston had the "most intimate conversation" which resulted in Aniston becoming emotional.
"Brad launched into a long list of things he was sorry for when it came to Jen. He apologized to Jen for being an absentee husband, for being stoned and bored much of the time. He also made amends for leaving her for Angelina," a source claimed.
As of now, Aniston is happily married to Justin Theroux whereas Angelina Jolie is getting used to being single and enjoying the critical recognition that her recent directorial movie, They Killed My Father First, is receiving at film festivals.