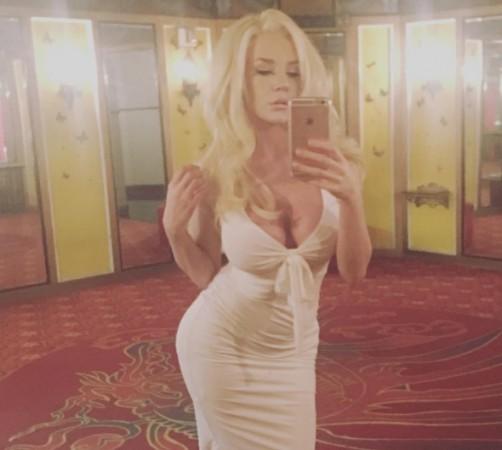 Courtney Stodden has sparked infidelity rumours after she was caught passionately kissing a mystery woman on Thursday. Her husband Dough Hutchison, 56, was nowhere in sight as his wife kept fooling around with an unidentified woman on a beach in California.
Photographs of the duo have since gone viral and one picture shows Stodden with her arms around the woman as they locked lips. Another photograph showed the duo cuddling. Their relationship is yet to be revealed, but Stodden seemed to be in high spirits. The 22-year-old reality show star, who got married at 16, suffered a miscarriage in July, just months after the duo celebrated their five-year wedding anniversary by renewing their vows.
To help grieve the loss of her unborn child, Stodden bought a reborn doll, which is a toy that looks like a baby. She even shaved her head shortly after she lost the baby, but later admitted that it did nothing to reduce the pain of losing her child.
"I'm just feeling a little lost right now," she told Entertainment Tonight. "I thought shaving my head would give me some kind of relief from the pain I've been experiencing … but it hasn't. I'm wearing wigs in order to try and make myself feel like I used to feel before all of this stuff happened," she added. "I almost feel like I'm trying to find myself all over again ... or maybe find myself for the first time in my life. I don't know."
Hutchinson's acting career came to an end shortly after he began an affair with the then16-year-old Stodden back in 2011. In an interview with VH1 he said his affair with a minor affected his professional as well as personal relationships. "I got death threats calling me a paedophile, calling me a pervert. My agent dropped me, my manager said by marrying Courtney was like taking a gun and shooting my career in the head," Hutchinson told Vh1.
"I got a call from my brother and he said to me 'Doug you and Courtney are no longer welcome.' My mother vehemently said that she didn't want anything to do with Courtney and me," he said.