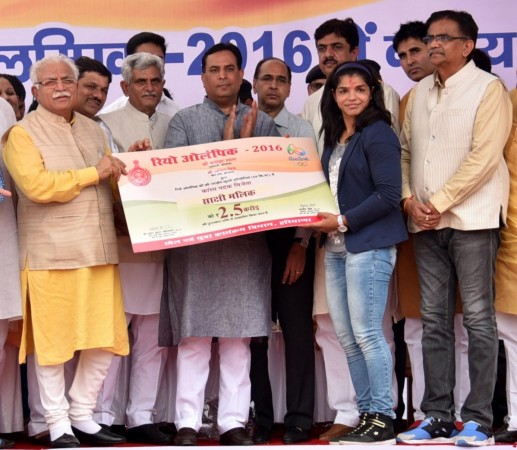 The contingent of Indian ministers, led by Vijay Goel, who travelled to Rio de Janeiro for Olympics 2016, has come under public scrutiny for reasons more than one. After people slammed the leaders for travelling in the business class while athletes flew economy class, comes more news revealing their pompous attitude.
Haryana Chief Minister Manohar Lal Khattar has received flak for calling Rio 2016 silver medallist PV Sindhu a resident of Karnataka. Worse, he even forgot the badminton player's full name.
This happened during a felicitation ceremony at the Bahadurgarh town near Rohtak, Haryana, on Wednesday, following the return of Rio 2016 bronze medallist Sakshi Malik.
"It's a proud moment for us that two of our daughters won medals on Raksha Bandhan festival. Sakshi Malik from Haryana and Sindhu (asks others what is her name). PV Sindhu from Karnataka," said Khattar during his speech.
A widespread debate has ensued over the state to which Sindhu, 21, actually belongs. The Andhra Pradesh and the Telangana governments are at a tug-of-war of sorts, calling the shuttler their own. It was in 2014 that a separate Indian state Telangana was formed, following the division of Andhra Pradesh.
The tussle between the two states might continue for some time now, but nowhere is Karnataka involved as Sindhu was born in Hyderabad. Khattar, therefore, received his share of criticism from many Twitter users, who could only have a 'facepalm' moment over the entire incident.
PV Sindhu offered foreign coach
Meanwhile, yet another Indian politician, this time the Telangana Deputy Chief Minister Mehmood Ali, had offered the star shuttler the option to avail a foreign coach as he believes that the move would fetch her a gold medal in the 2020 Tokyo Olympics.
Sindhu, however, made her priorities straight and asserted loyalty to the Dronacharya Award winning coach, Pullela Gopichand. "For me, Gopichand is my best coach. Don't want to comment on what the minister said. I think he [Ali] said it just like that but there's nothing for me to say about it," she told NDTV.