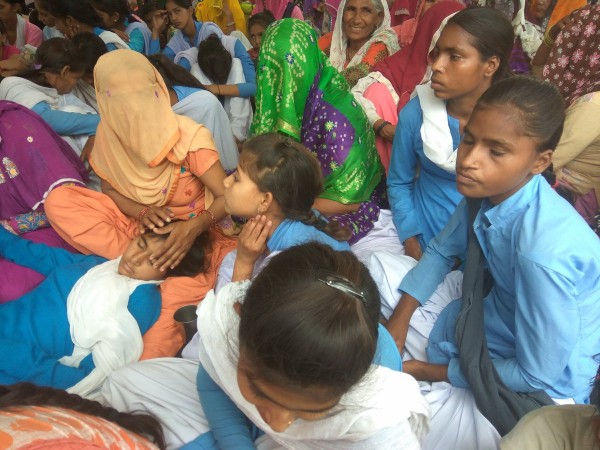 The girl students from the government high school in the Gothda Tappa village of Rewari, Haryana, who had gone on an indefinite hunger strike to seek an upgrade of their school, have ended their protest.
Haryana: Girl students of Govt High School in Rewari end hunger strike after upgradation of their school to level of Senior Secondary School pic.twitter.com/67J0hn3NCt

— ANI (@ANI_news) May 17, 2017
Haryana girls go on hunger strike for school upgradation; demand immediate action
The group of 86 girls ended the strike after the Haryana government on Wednesday, May 17 issued a notice saying that high school which had conducted classes till standard 9 and 10 has been upgraded to the level of Senior Secondary School.
Notification issued by Haryana government for upgradation of the Government High School in Rewari to the level of Senior Secondary School. pic.twitter.com/Wqp4FOLwar

— ANI (@ANI_news) May 17, 2017
"The principal has been deputed there and from tomorrow admission procedure will start," said Education minister Ram Bilas Sharma.
Earlier on Wednesday morning, Sharma had said that the order has been issued but a few formalities were still remaining. He had also added that top officials of the district will be going to the school to meet the girls.
The class 9 and 10 girls had gone on an indefinite hunger strike as they wanted their institution to be upgraded to a senior secondary school as they face sexual harassment when they have to travel to different villages for higher studies.
"We fear harassment and molestation by youths of other villages and hence, we are demanding up-gradation of our school up to class 12," said one of the protesters.
Though Sharma reportedly had accepted the demand on the sixth day of the strike, the girls continued to protest for the eighth day as they wanted the authorities to take immediate action. At least 10 students were shifted to hospital and put on drips after their condition worsened.