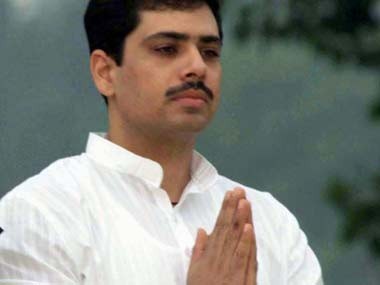 Businessman and son-in-law of Congress president Sonia Gandhi, Robert Vadra lost his cool, and ended up misbehaving with an ANI reporter on Saturday after the scribe posed some difficult questions to him over the illegal land deals in Haryana.
In the footage of the incident released by ANI, Vadra is seen violently thrusting the microphone away after the journalist asked him a question about the Haryana land deal scam.
Earlier on Saturday Vadra was at Delhi's Ashoka Hotel for inaugurating a fitness centre where the scuffle took place.
The ANI reporter and cameramen also have alleged that following the verbal altercation, Vadra's securitymen also reportedly assaulted the crew in an attempt to get the footage deleted.
"Are you serious, are you serious? Put your camera off. Are you nuts?" uttered Vadra in anger following the journalist's question. He was even heard asking his guards to get the reporter to delete the video footage.
"What is wrong with you?" Vadra said from a distance as he was led away by his security guards. To this, the ANI journalist was heard saying that he had asked a legitimate question. "And so you are the right person to ask this question?" Vadra said before being swiftly whisked away by his security.
In a statement Vadra later said that he wasn't aware that the reporter was from ANI. "I thought the question was asked by a private photographer," he said.
The incident that is bound to turn into a political debate has seen an angry outbursts from BJP, which has asked for a public apology from Vadra, who is married to Priyanka Gandhi.
"I am shocked at the way he reacted to the question asked by the journalist. He should apologise to both the nation and media. If he was uncomfortable in replying to the question, he should have simply said 'no comments'," said BJP spokesperson Sambit Patra, as reported by Zee News.
Watch Robert Vadra Video Attacking ANI Reporter
Vadra's outburst comes at a time when BJP has openly declared its plans to expose Vadra on his illegal land deals in Haryana.
Days after Manohar Lal Khattar took oath as Haryana's Chief Minister, BJP leader Anil Vij had said, "We will inquire into all land scams including the one involving Vadra and DLF land deal."
"We will get every inch of this land scam probed. Anyone found guilty in that, whether any official, Robert Vadra or Bhupinder Singh Hooda, will not be spared," Vij added.
Prime Minister Narendra Modi too had also raised the controversial deal between Vadra and realty giant DLF during his campaign for the Lok Sabha election and had even urged the Election Commission to look into the matter.