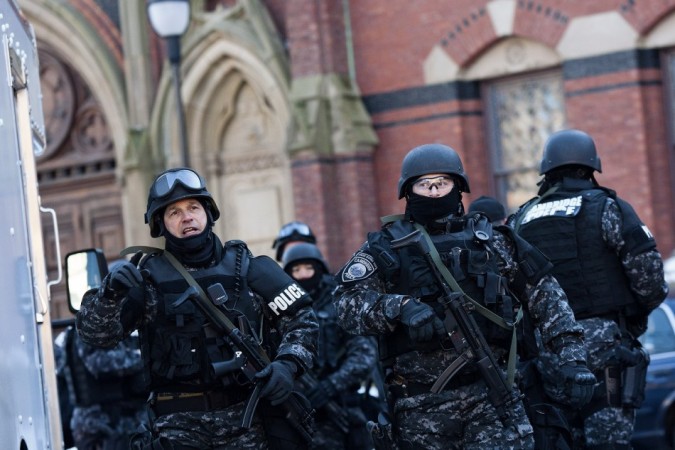 Several students at the Harvard University in Cambridge, Massachusetts missed out on their exams to be held on Monday, following a bomb scare in the campus. While the threat was taken seriously and four university buildings were evacuated, there are serious suspicions that it was an attempt by a student, or a group of students, to sabotage the exams.
An e-mail that warned explosives had been planted at the Ivy League school led to the evacuation, and several students missed out on their final exams which were scheduled to be held in the Emerson Hall, Sever Hall, Thayer Hall and the Science Center.
The Harvard police - along with the Cambridge police, state police and federal law enforcement - have launched an investigation into the threat and a clearer picture is expected to emerge soon.
The bomb threat was received by the Harvard University police at around 8.40 am Monda. At around 9.30, the Harvard officials at the Cambridge, Massachusetts campus let out an alert, evacuating the campus.
Ever since the 15 April Boston Marathon bombing, the institutions have been on an increased vigil against any possible terror threat.
The buildings were evacuated by the bomb squad and a thorough check was conducted. The official news outlet of Harvard reported, following the bomb search operation, that "no explosives or suspicious devices were found following the evacuation and sweep of four Harvard University buildings by federal, state, and local law enforcement agencies."
While the police investigators are yet to give the probe details, there is an increased suspicion that the bomb threat might have been the handy work of a student, who wanted to interrupt the exams. Since the threat was specific to Emerson Hall, Sever Hall, Thayer Hall, and the Science Center, all final exams were either cancelled or rescheduled, which could have been something the student or a group of students would have wanted.
The Harvard Gazette also noted that while the investigation into the threat is ongoing, the university has made alternate arrangements for those who missed their exams due to the evacuation.
Associate Dean of Harvard College John Ellison stated that several options have outlined for students who elected not to take their after exam, and they must immediately get in touch with their respective resident deans. Harvard University, which has 2,100 faculty members and 21,000 students, is understood to have calmly resumed its routine.