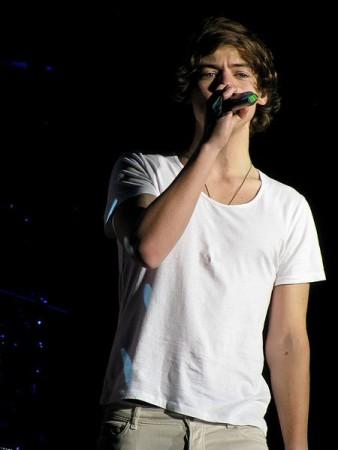 In a shocking round of rumors, it has been suggested that Harry Styles has fathered a baby girl.
The cover of Australian tabloid NW Magazine has suggested that Styles has become a father at 20. However, there is no proof to these rumors and it is being said that the child Styles is holding on the magazine's cover belongs to Lou Teasdale [his hairstylist] and Tom Atkin, Celebdirty Laundry reported.
It is further being said that if Styles had fathered a baby secretly, all major media channels would have spilled the news. So it seems very bleak that NW's allegations of Styles fathering a baby at such a young age are close to truth.
Styles has had a plethora of relationships in past, which made many believe the NW's news Cover, which read "HARRY... A DAD AT 20!"
Styles' rep is yet to say anything about the rumor. Meanwhile, it is also suggested that Styles has formed his new company HAS Publishing Limited, which has worried his fans about Styles' future with "One Direction". It is being speculated that considering Styles has his own company, he would leave "1D" for good.
Styles has set up his company with the help of Irish accountant Alan McEvoy, as per reports. McEvoy is the same person who helped establish 1D media previously.
However, in spite of focusing on his solo career a rep from "1D" has confirmed that Styles is not leaving the band. Styles has apparently taken permission from his group members before forming his independent company, reported Hollywoodlife.
Styles' rep has also suggested in one of his interviews that the British heartthrob is not quitting in any way.
"There are no plans for Harry to release any solo music at this time," the rep said "Any writing that he is doing is for potential One Direction songs. It's common knowledge that the boys write separately and bring to each other for the album," reported Reality World.
Styles and band member Liam Payne had also said that that they have no intention of breaking-up the band.
"We don't want to be on The Big Reunion next year," the singer said as per the Website. "We don't want to be on The Big Reunion ever. Well, maybe in 2050."
"One Direction" released their third studio album, "Midnight Memories", in Nov. 2013. The band started their Where We Are tour on April 25 in Bogota, Columbia, and will conclude it on Oct.5 in Miami, Fla.