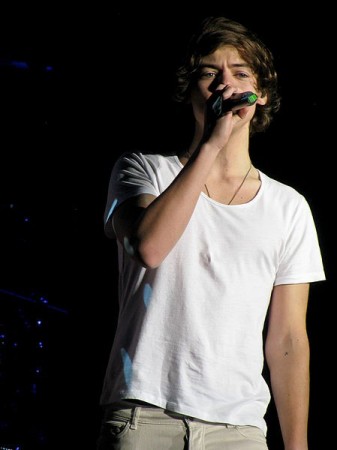 One Direction is once again in the news after a photograph of Harry Styles surfaced online that shows him lounging on a recliner naked. A strategically placed hand covers Styles' modesty as the singer poses for the picture flashing a peace sign.
The controversial photo, tweeted by his cousin Matty Selley, was immediately taken down, but not before fans got hold of it. One Directioners, as the band's fans are known, have been tweeting the picture ever since it surfaced online over the weekend, and according to reports, it has been favorited more than 20,000 times.
The picture has managed to cause a frenzy on Twitter, with many fans even wanting to buy the recliner Styles sat on.
Check out some of the funny tweets below.
open question where do i buy a couch with a naked harry styles on it pic.twitter.com/z4hwb3IJTB

— 10 || † (@fcxknarry) June 1, 2014
you take a selfie with naked harry styles and you only show part of his body u had one job and u failed pic.twitter.com/6Bxpd9Fh4p — yay nay nancy (@whipped4liam) June 1, 2014
BLESS THE GODS FROM ABOVE FOR GIVING US A HALF NAKED HARRY STYLES pic.twitter.com/qHPDqwbuHY

— alyssa (@dimpIous) June 1, 2014
The month of June welcomed me w/ a Harry Styles "almost naked" photo. Srsly love my birth month. Hahahahah — Regina Novales (@Regina_Novales) June 1, 2014
I open the twitter app to find a photo of harry styles 80% naked what a beautiful day

— Rochelle :-))))) (@poopstyles) June 1, 2014
how do you stay calm when there's a nearly naked harry styles sitting next to you — Halie (@dashofharry) June 3, 2014
Styles has been open about his love for going commando, and in a 2012 interview, his bandmates revealed that he even got into trouble once for being naked.
"Harry likes to be naked all the time," Louis Tomlinson told the Mirror at the time. "He got a hefty fine in Sweden for walking around butt naked."
Styles added: "I did, yeah... And then in Amsterdam, we hired these little boats and I got told to get out by the owners because I didn't have any clothes on."
Interestingly, Styles' recent naked photo has once again raised doubts on his sexual orientation.
"This boy must be gay like come on you don't get naked in front of men harry styles," wrote one fan, while another pointed out that Styles' purple headband was a clear giveaway that he is homosexual. "#NAKEDHARRY #nakedselfie #HarryStyles he is naked with a purple towel or something on his head #gay," the message read.
Styles, who has previously dated Kendall Jenner and Taylor Swift among others, has been dogged by gay rumors for a long time.
Early this year, rumors once again started doing the rounds after he spent nearly £20,000 on a series of Hayden Kays artwork, featuring love and sex-related messages, including one that read "If I wasn't straight I'd definitely be gay."
His love for gay bars hasn't helped matters much.