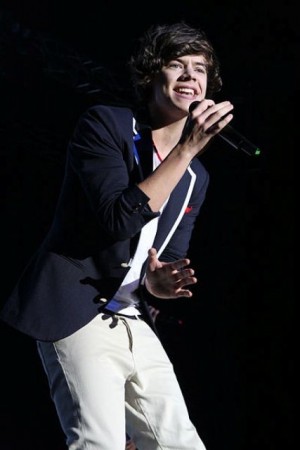 A rumor about One Direction's Harry Styles leaving the band has gone viral after a member of Kodaline spoke about writing a song for Styles' alleged solo album.
Kodaline frontman Steve Garrigan revealed that he has written a song for Styles, which could be on the British boybander's album if he goes solo, in an interview with the Digital Spy.
"It was really strange how they came about," Garrigan told Digital Spy. "He just turned up to a show, and he likes our music. We had a bit of free time and so we went to the studio and wrote a song. It was good fun.
"It could be on his album if he does something, but I don't know. Nothing is set in stone."
This news comes amid reports that Styles has written a song for Ariana Grande's new album, My Everything, sparking rumors that Styles is trying out a lot of solo projects before he makes a break from One Direction.
Interestingly, this is not the first time that Styles has explored his song writing skills. Early this year, he collaborated with John Legend for a song after the latter's manager set up a meeting between the two.
"We got together for a few hours and wrote what I think is a really lovely song," Legend told The Sun about the music, according to HollywoodLife.
"I'd love to write with him again as he is a very great guy and very talented," Legend said. "He has some really great lyrical ideas and is a very good songwriter."
Styles has also reportedly worked with One Republic's Ryan Tedder for a new project, and a source believes that Styles' relationship with Tedder will come in handy if the 20-year-old ever decides to go solo.
"Harry and Ryan have been working on new material together. They've met a number of times before with the band but have never worked together properly. There's a mutual appreciation there. If there's one person to get the best out of Harry, it's Ryan," a source told The Sun, Metro reported.
"The new relationship will come in handy if Harry does try his hand at going solo," the insider added.
Despite a number of unidentified source hinting that Styles is paving the way for a solo career, the singer's representative quashed these rumors stating that all the writing that Styles is doing are for One Direction songs.
"There are no plans for Harry to release any solo music at this time, any writing that he is doing is for potential One Direction songs," a representative for the band told E! News. "It's common knowledge that the boys write separately and bring to each other for the album."