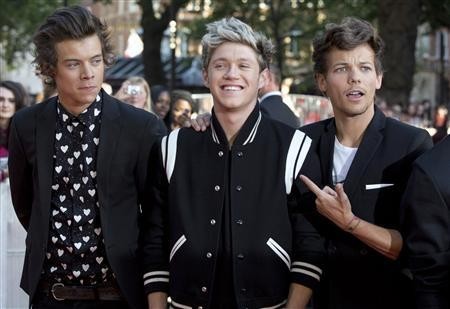 Harry Styles and Kendall Jenner were spotted having a cosy dinner date, sparking off rumors that the two are romantically involved.
Just last week, there were reports of a potential reunion between One Direction's Harry Styles and his former lady love Taylor Swift. Days after that, news of a linkup between the British boy band member and Miley Cyrus went viral and fans were left confused as to who Styles was actually dating.
As if that confusion wasn't enough, new snapshots have added another feather to this hat of perplexity. The "What Makes You Beautiful" singer was recently photographed enjoying a dinner date with Kim Kardashian's younger sister. The two were later spotted leaving together in Styles' car. Whether it was an official date or not is yet to be confirmed but if reports are to be believed, the two looked comfortable and happy to be with each other, reported New York Daily.
According to the report, the couple made a back exit from Craig's restaurant in West Hollywood on Wednesday, without drawing too much attention. But the paparazzi were quick enough to get a few shots of them leaving in his car.
Earlier that day, Styles had taken to his Twitter account saying, "In the Cityyyyyyyy" but made no mention of his dinner date with Jenner.
The One Direction band is currently in the US promoting their new album "Midnight Memories" which is slated to release next week. They also gave a exhilarating performance at the "The X Factor USA" results episode which was recently aired. aired. They will be holding a special One Direction event over the weekend.
Jenner and Styles reportedly met on the show's set last year which had her sister Khloe as host of the season. Khloe was reportedly fired for having too busy a schedule, according to a Daily Mail report.
Jenner herself has been creating waves of her own with a sultry picture she recently shared on Instagram.