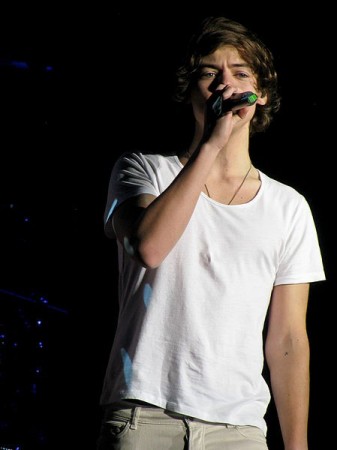 Harry Styles went shirtless on his recent vacation in Rio De Janeiro. The "One Direction" singer was seen taking a dip in the pool and flaunted his tattoos, which included a butterfly and a leaf. Styles was unwinding with his band members and his family.
"1D devotees sitting poolside were finding the swaggering stud a little hard to resist as they clamored to get photos with him," an eyewitness revealed to E!
However, reports suggest that Styles was not affected by people's gaze and their impatience to click a picture with him. The British hunk stayed with his group and was seen wearing minimal clothes and a hat.
Fans wonder what ex Kendall Jenner has to say after looking at the Styles' hot bod. Will this entice her back to the "1D" singer?
Styles and Jenner were quite a hot property till they allegedly broke-up a few months ago. The two sparked dating rumors when they went on their first date in November. Their relationship rumors ripened when they were seen in a PDA at "The Eagles" concert, but the couple called it quits due to work commitment and long distance.
Meanwhile, Jenner was spotted on a dinner date with Justin Bieber. The two were accompanied by pal Hailey Baldwin and the trio was seen were seen digging their teeth into scrumptious meal at midtown Manhattan hotspot Nobu 57 on Monday, April 28.
Fans are understandably curious about Jenner's growing closeness to Bieber. Intriguingly, Jenner and Bieber's dinner date came after Selena Gomez unfollowed Jenner sister and Bieber on instagram.
"Selena said the Jenner girls were flirting with Justin and his crew. She was pissed and overracted," revealed a source to US Weekly.
[ED:VS]