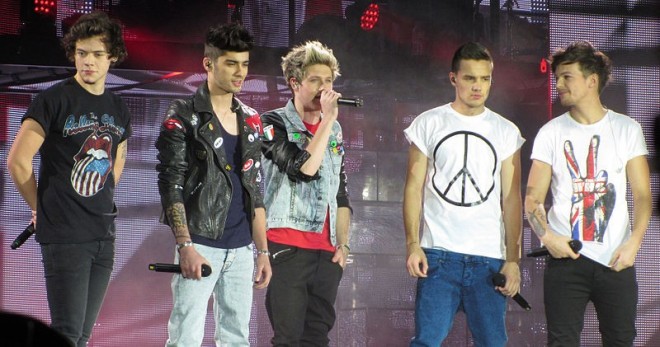 The shocking video of One Direction's Zayn Malik and Louis Tomlinson smoking what is believed to be a joint, appears to have caused a friction between the band members.
Harry Styles is said to be furious with Malik and Tomlinson and reportedly thinks that the duo has potentially jeopardised the band's future.
"Harry is annoyed about the whole debacle. This should be one of the biggest weeks of the band's career with the launch of their UK stadium tour, a source told The Sun newspaper, according to Daily Mail.
"Instead it has been taken over by this controversy. Harry thinks it was a stupid and reckless thing for Louis to allow to be filmed in the first place."
It has also emerged that Styles is distancing himself from the band as he does not approve of such antics, prompting fans to wonder if Styles might soon leave the band altogether. This might be what caused "#thankyouharryfor" to trend in the U.S. with many fans appreciating the singer for being a good role model.
The band is expected to start the North American leg of the tour from August 1 and now there are concerns if authorities would deny them entry into the country because of the alleged drug use.
The insider added: "Everything is about America. It would be a disaster if Zayn and Louis had problems. The authorities could make an example of them."
Meanwhile, the "joint" video is proving to be a disaster for the band's image as a number of children have expressed their intention to experiment with drugs as they found Malik smoking "hot."
Reports have it that children as young as 11 years old have vowed to try out cannabis.
Zayn smoking weed is hot. I wanna try weed one day...

— SOMEONE PINCH ME (@theymakeusgo_oh) May 27, 2014
I just turned 11 and idk what a blunt is but I wanna smoke it #zouispassmethatblunt — Lady Gaga Updates (@LadyGagaluver) May 29, 2014
I know that marijuana isn't good for us specifically to us teenagers bUT DAMN I WANT TO TRY SMOKING WEED WITH THEM I #zouispassmethatblunt

— Pekta (@LOUMUVOGUE) May 28, 2014
The drug scandal has also resulted in "One Direction" fans and their parents selling tickets for upcoming gigs for half their price. A £30 (approximately $50 ) seat at Sunday's show in Manchester is being offered for £15 (approximately $25), Daily Mail reported.
Viagogo, the world's largest ticket marketplace, told Daily Mail that there has been a 79 percent increase in the number of people trying to sell One Direction tickets in the 24 hours since the footage was released.
A Viagogo spokesmantold Daily Mail: "One Direction are a global phenomenon and in the past Directioners have been some of the most dedicated fans in the world.
"The boys are considered role models, but the question is whether this latest controversy will affect the boyband's squeaky clean image, as fans – and their parents alike– turn to reselling their tickets."