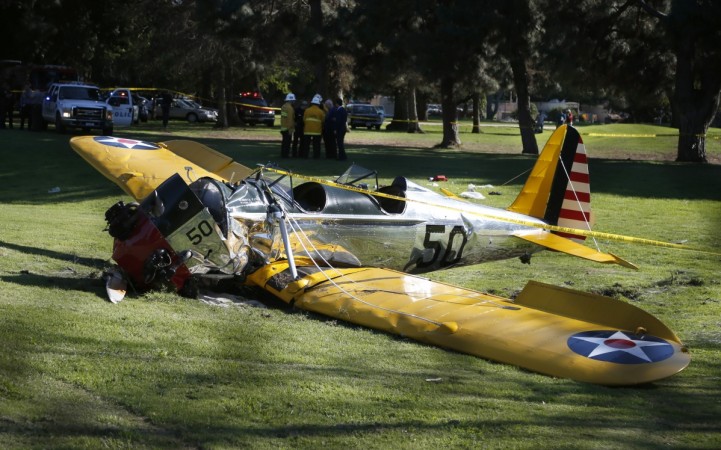 Actor Harrison Ford was left injured when a World War II-era plane he was flying crashed on a golf course in Venice, California on Thursday.
Ford experienced engine trouble moments after taking off in the vintage single-engine, Ryan Aeronautical ST3KR plane and attempted to make an emergency landing when the plane clipped a tree before crashing on to the Penmar Golf Course.
Ford walked out of the accident "battered" but "ok," his son Ben Ford tweeted.
"At the hospital. Dad is ok. Battered, but ok! He is every bit the man you would think he is. He is an incredibly strong man," Ben said on Twitter.
According to the Los Angeles Fire Department, Ford suffered "moderate trauma" after the plane crashed with "medium to high impact".
Some bystanders reportedly took videos of the plane coming down on their cellphones without realizing the "Star Wars" actor was piloting it.
"Harrison was flying a WW2 vintage plane today which had engine trouble upon take off. He had no other choice but to make an emergency landing, which he did safely. He was banged up and is in the hospital receiving medical care. The injuries sustained are not life threatening, and he is expected to make a full recovery," the actor's publicist said, according to ABC7.
The incident soon led to a Twitter hashtag #HarrisonFord, as Twitterati expressed shock while some took to puns involving Ford's popular filmography, including "Star Wars" and "Indiana Jones."
I keep a Gratitude Journal. My completely heartfelt, non-cynical list of things I'm grateful for today.#HarrisonFord pic.twitter.com/RY38yRKrTe

— Christie Golden (@ChristieGolden) March 6, 2015
"Nice try Lao Che!" #HarrisonFord pic.twitter.com/Z45yoIBT48 — Matt (@calmdownmatt) March 6, 2015
Glad to see #HarrisonFord landed safely on a golf course after his accident today pic.twitter.com/ysaKbDvHv1

— Candee (@EricRCandee) March 6, 2015
Everyone knows Indiana Jones always survives a plane crash. #HarrisonFord — Victoria Vartan (@Vsvartan) March 6, 2015
Word is that #HarrisonFord survived the crash by hiding in a refrigerator. @FutureBoy pic.twitter.com/JY2M0e0TBd

— Mediocre Jedi (@MediocreJedi) March 6, 2015