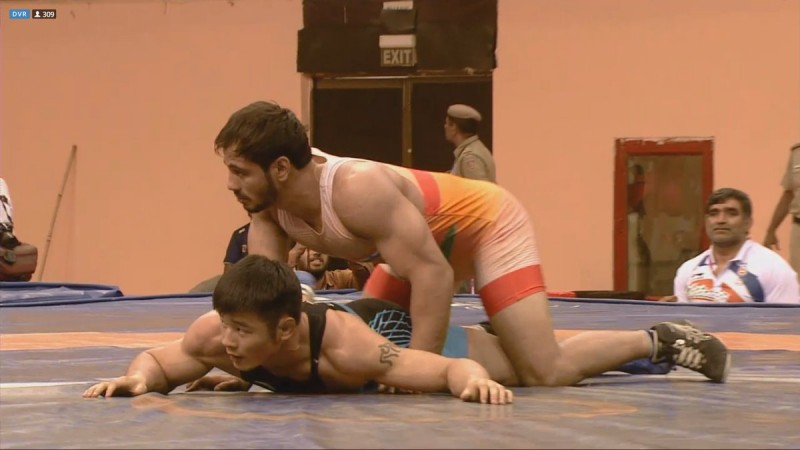 Harpreet Singh became the first Indian wrestler to bring home a medal for the nation as he clinched the bronze at the Asian Championship Wrestling 2017 in New Delhi on Wednesday May 10. The 24-year-old achieved the feat in the 80 kg greco-roman wrestling category.
Harpreet, who hails from Faridkot, had a bloody face during the fight, where he made an epic comeback to record a 3-2 win against China's Junjie Na.
The technique used by Harpreet to win has been referred to as the 'bagaldu', which we presume is a term associated with Indian kushti. The technique, according to the original greco-roman glossary, is called a 'high dive'.
The greco-roman wrestling move needs immense upper body strength and explosive leg force, to be executed perfectly.
The 'high-dive' technique in Greco-Roman:
You have to lift the arms of the opponent either via an arm drag or manage to find the perfect opening to get a complete hold of the opponent's waist.
Once the position has been taken, all you need to do is lift him up and pin him to the mat. That's it. Game over.
There was a lot of pressure on me as I was the only medal hope left and I wanted to give the country a medal on the first day of the championship, being the hosts.

I focused very hard and strategised how I could win the bronze. I am glad I could apply the strategy well to win the medal in the end.

- Harpreet.
More about Harpreet Singh
- The 24-year-old is a Punjab police sub-inspector, apart from a wrestler.
- He won the bronze medal at the Asian Wrestling Championship 2016 in Bangkok, Thailand, as well.
- Harpreet joined the revered Baba Farid Akhara in Faridkot, run by Hargovind Singh's, at the age of 10.
- He is yet to appear at the Olympics.