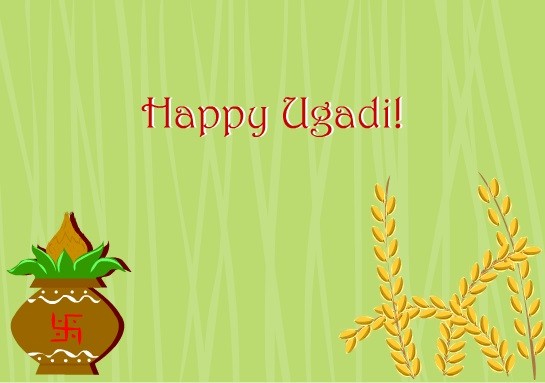 Happy Ugadi 2016!
The first day of Chaitra — the first month in the Panchang — falls Friday, April 8, this year. The day, which is celebrated as the New Year's Day, is known as Ugadi or Yugadi in Karnataka, Andhra Pradesh and Telengana.
The term Ugadi has been derived from the Sanskrit words "yuga," or age, and "adi," or beginning, and hence it is called as "the beginning of a new age."
The festival is also celebrated by Maharashtrians as Gudi Padwa April 8. As per the Hindu solar calendar, Keralities, Tamilians and Bengalis will celebrate New Year as Vishu, Puthandu and Pohela Boishakh, respectively, April 14.
Here are some wishes, messages and greetings to be shared on Ugadi:
May this year be filled with many blessings and your life be as bright as ever. Happy Ugadi.
May this Ugadi be a new beginning for you filled with love and prosperity. Wishing you happy Ugadi.
May this Ugadi bring joy, wealth and health to you and your dear ones
May it brighten your life full of happiness and blessing. Happy Ugadi 2016.
May this Ugadi bring you peace and harmony.
May the lights triumph over darkness.
May peace transcend the earth. Wishing you all the blessing of the Ugadi festival.
I wish to spread the joy and greetings of the New Year with the glowing lights of Ugadi. Wishing you a very happy new year
May this year shower a lot more blessings on you to make you a better person. Happy Ugadi.
In a life filled up with many ups and downs, may you be able to handle the situations you come across in the best ways possible. Happy Ugadi 2016.
Lets gather around and celebrate the dawn of the sparkling new year to be filled with joyful moments, good health and surprises. Happy Ugadi wishes to your family.
Here is another Ugadi. It's time to open a new chapter in your life. May this New Year brings new ideas and hopes to make your life better. Happy new year wishes.
Wishing you a bright, blissful, delightful, energetic, healthy, great, prosperous and extremely happy Ugadi.