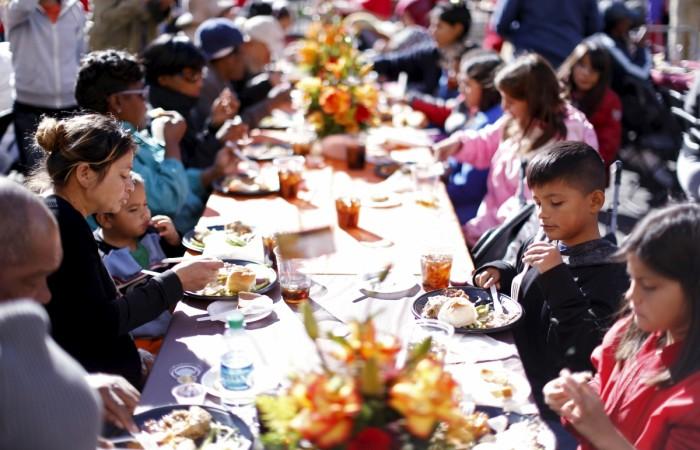 Thanksgiving Day, celebrated all over the United States and Canada, is one of the most important national holidays. The day is an occasion to thank God for the blessings of a good harvest. While it is celebrated on the second Monday of October in Canada, Americans observe it on the fourth Thursday of November, and it falls on November 24 this year.
Thanksgiving, which is also known as Turkey Day, is an occasion for family members to gather for a delicious feast, which will be served to celebrate the good moments that happened through the year. Special Thanksgiving ceremonies are also part of the observance.
Here are a few quotes by famous personalities to be shared on Thanksgiving 2016:
Be thankful for what you have; you'll end up having more. If you concentrate on what you don't have, you will never, ever have enough." — Oprah Winfrey, American television personality.
I am grateful for what I am and have. My thanksgiving is perpetual." — Henry David Thoreau, American writer.
The thankful receiver bears a plentiful harvest." — William Blake, English poet.
I'm thankful for every moment." — Al Green, American singer.
If the only prayer you said in your whole life was, 'thank you,' that would suffice." — Meister Eckhart, German theologian.
Thanksgiving is a time of togetherness and gratitude." — Nigel Hamilton, British-born biographer.
Best of all is it to preserve everything in a pure, still heart, and let there be for every pulse a thanksgiving, and for every breath a song." — Konrad von Gesner, Swiss bibliographer.
A thankful heart is not only the greatest virtue, but the parent of all the other virtues." — Cicero, Roman philosopher.
I give thanks to my Creator for this wonderful life where each of us has the opportunity to learn lessons we could not fully comprehend by any other means." — Joseph B. Wirthlin, American businessman.
May God hear all your prayers and bless you abundantly with happiness and beautiful moments. Happy Thanksgiving.
Let's thank the heavenly God all giving us a fabulous year with lots of happiness. Let's wish each other the greetings of Thanksgiving.
Dear Heavenly Father, I'm thankful for blessing our family with all the good things. Thanks for guiding our life towards salvation. Happy Thanksgiving 2016.
On this Thanksgiving day, I wish you a lifetime of happiness and health. May you have a home filled with laughter and love. Happy holidays!
It's the time of year to celebrate and relish the turkey. May you have a lots of fun and happiness on this Thanksgiving Day.
Even if you do not have much,
Always be thankful to God.
As he might have some better plans for you in future.