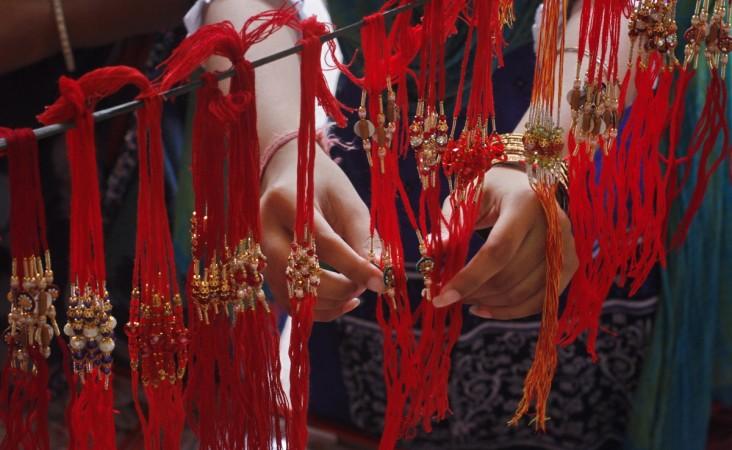 The nation will celebrate Raksha Bandhan 2016, also known as Rakhi, on Aug. 18. Like most other festivals, Raksha Bandhan too should be celebrated with some beautiful songs that Bollywood has offered till date.
Raksha Bandhan signifies the bond between a brother and a sister. The sister shows her affection by tying a sacred thread (known as Rakhi) around her brother's wrist, praying for his well-being and the latter promises to protect her all his life.
Happy Raksha Bandhan 2016: Best Quotes, wishes, Picture Greetings
This age-old tradition does not necessarily include only blood relations, but is also celebrated by men and women who share a brother-sister relationship. The festival of Raksha Bandhan involves an emotional bond and songs have always been an effective medium of expressing emotions.
Bollywood till date has come up with a host of Raksha Bandhan songs. Although there are not many new songs depicting kinship between a brother and a sister, there are many popular Rakhi songs that should not miss your playlist this Thursday.
Internet is filled with several Raksha Bandhan songs that you can download for free or play online. Here are some of the best Rakhi songs and videos to make Raksha Bandhan 2016 more special:
1) "Phoolon Ka Taron Ka:" This is perhaps the most popular and loved song based on brother-sister bond. Sung by Kishore Kumar, it is a beautiful track that perfectly suits your playlist on the special day.
2) "Bhaiya Mere Rakhi Ke Bandhan Ko Nibhana:"This song has been sung by Lata Mangeshkar. It is one of the oldest tracks on Raksha Bandhan but certainly a delight to the ears.
3) "Mere Bhaiya Mere Chanda:"This is another old track showcasing the purity and beauty that the relationship carries. It has been sung by Asha Bhosle.
4) "Rang Birangi Rakhi Le Ke": This song has also been sung by Lata Mangeshkar. It is a fun-filled track to celebrate the occasion.
5) "Bhai Behen Ka Pyar": This is also a happy song that suggests that the relationship between a brother and sister is the most beautiful one.
6) "Ye Rakhi Bandhan Hai Aisa": This 1972 song from the movie "Beimaan" is another track to fit your playlist on the day.
7) "O Meri Behna": This song shows how a brother can play a parent's role for his sister. It is a nice song that should not be missed on this Raksha Bandhan.
8) "Ise Samjho Na Resham Ka Tar Bhaiya": This melodious track highlights a sister's unconditional love for her brother.
9) "Gudiya Jaise Behna Hai": It also showcases the love and care that a brother and a sister have for each other.
10) "Behna Ne Bhai Ki Kalai Se": This is another popular Raksha Bandhan song that will add to the celebration.