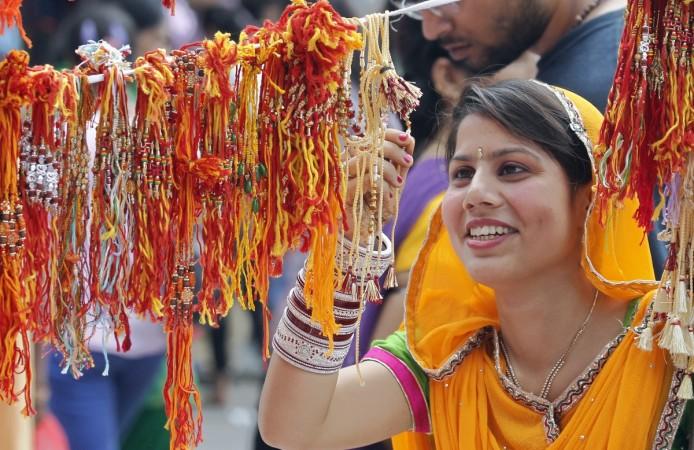 This year, Raksha Bandhan falls on Aug. 18, Thursday. It is one of the most widely-celebrated festivals in India, but at the same time a bit dreaded by the brothers, who have to get their sisters gifts on the day. Even though there is no dearth of ideas, brothers often find themselves struggling to pick the perfect present for their little sisters.
We have compiled a list for all those brothers who are in a fix and still have no clue what to get their sisters:
Chocolates, perfumes and soft toys
This is could be an assorted gift and to personalise it you could put them all together in a wicker weave basket. Add to it a bar of Lindt Excellence, pack of Hershey's kisses and box of Ferrero Rocher chocolates and a bottle of perfume (Davidoff Cool Water, Burberry, Calvin Klein, Skinn). Throw in a cute soft toy, she can hug and sleep, to cushion the basket.
If you are someone who lives miles away from your loved ones, you could send some love with the help of a few online sites, which have same day-delivery options too.
Make-up, accessories and clothes
Sisters are well-groomed with a well-stacked cupboard and crowded-yet-organised dressing table that will tell you that they take their fashion game seriously. You may not be up to speed with the current trend, so here are a few ideas that will help you shop.
It is essential that every piece of clothing must go with each other and the make-up and accessories should complete the look. Off-shoulder tops, kimono shrugs, distressed denims, varsity tops, shirt dresses, high-waist trousers are some of the items that are selling well. Printed bucket bags, tote and satchel are types of bags that are in trend. For her- make-up bag, you could choose from lipsticks, mascara, eyeshadow sets, and blush-on. Pick-up simple Kohl liners and nail polish bottles, if she is not into make-up.
To personalise your present, pick colours and patterns she likes the most.
Spa vouchers and gift hampers
Nothing beats a hot oil massage, followed by a spa body wrap. Spa vouchers and gift hampers may not look fancy, but they are practical and one can get more use out of them. To give it a personal touch, you can arrange them in cute envelopes and tie it up using decorative ribbons. Because Rakhi is a special festival that celebrates the love between siblings, it calls to be a little creative.
Books
Add one more to the overflowing bookshelf of your sister; J. K. Rowling's "Harry Potter and The Cursed Child" is what we are suggesting. If she is not the book-reading kind, you could buy her subscriptions to popular news and lifestyle magazines (think Vogue, Cosmopolitan, Marie Claire, Harper's Bazaar, Elle, The Economist, The Week and such.) If she's into superhero novels, go for the heavily-illustrated Marvel comic books like "The Flash" or "The Avengers" that are readily available at bookstores.
Gadgets
Women are known to be not-so friendly with gadgets, but for once, let's leave the clichés behind.
These days, fitness is slowly seeping into our daily routines, which means more gym time. A fitness watch really comes in handy when you are trying to log your workout hours. Kitchen appliances such as blenders, coffee makers, oven, toasters and chopping tools really aid in cutting down cooking time by a huge margin, so that could be an option. Kindle, smart watch or a souped-up phone is a good gift idea for the tech lover in your sister.