Shah Rukh Khan has delivered a hit again in the form of "Happy New Year". The actor's movie has grossed over ₹350 worldwide and has reached the ₹200-crore-mark in India.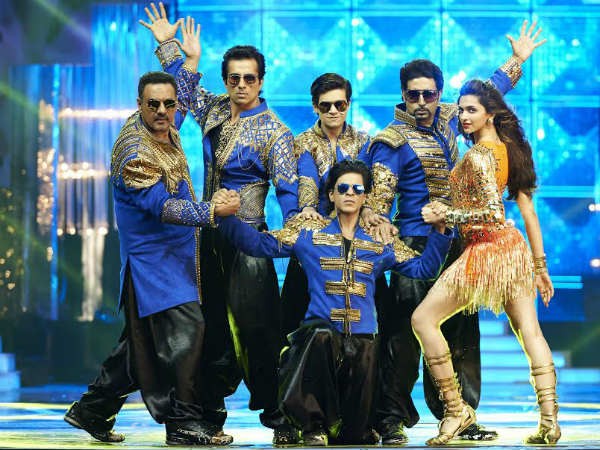 The Hindi movie, which also has Deepika Padukone, Boman Irani and others in the cast, was released in above 5000 screens worldwide on 24 October for Diwali. On the opening day, the film raked in ₹44 crore and went on to become the biggest opener of the year.
"Happy New Year" directed by Farah Khan has become the highest grossing film of 2014. Here is the day wise domestic collections (Break Up) of the movie from the opening day until its 21st day at the box office.
| | |
| --- | --- |
| Day | Box Office Collections |
| Day 1 | ₹ 44.97 Crores |
| Day 2 | ₹ 31.60 Crores |
| Day 3 | ₹ 32.69 Crores |
| First Weekend | ₹ 108.86 Crores |
| Day 4 | ₹ 15.01 Crores |
| Day 5 | ₹ 13.00 Crores |
| Day 6 | ₹ 11.5 Crores |
| Day 7 | ₹ 9.14 Crores |
| First Week | ₹ 157.57 |
| Day 8 | ₹ 5.26 Crores |
| Day 9 | ₹ 7.46 Crores |
| Day 10 | ₹ 9.51 Crores |
| Day 11 | ₹ 3.31 Crores |
| Second Weekend | ₹ 23 Crores |
| Day 12 | ₹ 4.06 Crores |
| Day 13 | ₹ 2.75 Crores |
| Day 14 | ₹ 3.5 Crores |
| Second Week | ₹ 36.5 Crores |
| Day 15 | ₹ 1.5 Crores |
| Day 16 | ₹ 1.8 Crores |
| Day 17 | ₹ 2.33 Crores |
| Day 18 | ₹ 0.75 Crores |
| Day 19 | ₹ 68 Lakhs |
| Day 20 | ₹ 63 Lakhs |
| Day 21 | ₹ 58 Lakhs |