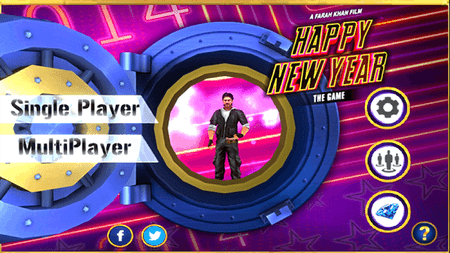 Recently, the official game of the movie 'Happy New Year', developed by Vroovy, was ranked No.1 in the top trending games category on Google Play. Not long ago, Bang Bang, another Bollywood blockbuster, released its game exclusively on 9Game a few weeks before its premiere and received a tremendous response with 1 million downloads by gamers and movie fans.
The success of these games gives a clear indication that Bollywood movies can give a huge boost to the mobile game industry. Nowadays, almost all producers are developing movie-themed games, or commissioning a third party developer to make games for better revenues.
"The transboundary cooperation between Bollywood movie producers, mobile game developers and game distribution channels has been an inevitable trend since the smartphone gained popularity in India," said Jacky Chi, Senior Vice President of 9Game/9Apps.
9Game, the top mobile game distribution platform with over 200 million monthly downloads in India, has been a pioneer in trans boundary cooperation. In the past year, 9Game helped promote several Bollywood movie-themed games. Thanks to the promotion services, almost all games had a good run. The first movie-themed game hit 9Game in March, called "The Gulaab Gang", developed by top gaming developer, Nazara. This game is specially targeted at Indian users.
9Game has also released titles "Singham Returns" and "Bang Bang the Game". "Singham Returns" is a third-person parkour game and the new game "Bang Bang" released last month, is a third-person action adventure game featuring both the lead actors and follows the storyline of the film. Both games got huge attention and were the top downloads. "Singham Returns" made 150,000 downloads within a week on 9Game & 9Apps. "Bang Bang" reached over 1 million downloads on 9Game & 9Apps and ranked No.2 in the top trending games on Google Play in just one week after the release.
Kick, Happy New Year and many more Bollywood movies have had a mobile gaming run. In the near future, a gaming avatar for a movie title will become a must..
All games mentioned above can be downloaded at www dot 9game dot com.