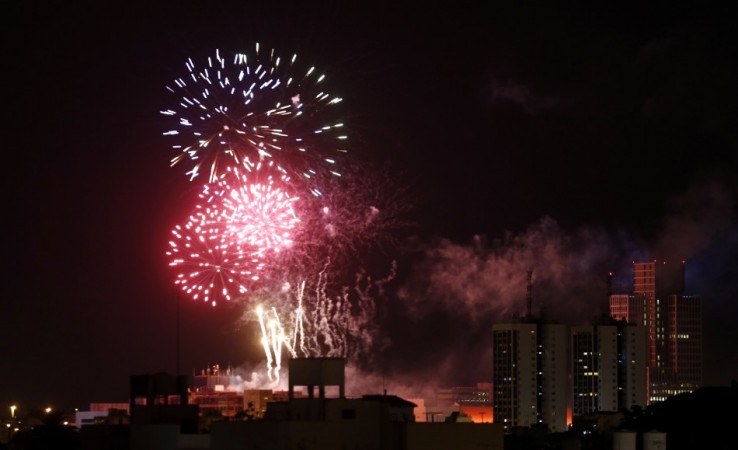 The Times Square Ball Drop [Watch Live]
With over a billion people in attendance, the historic big ball will slide down the pole at the strike of midnight on New Year's Eve at Times Square. People from over 184 countries will be watching the massive celebrations at the Times Square.
To watch the 60-second ball drop, over a million spectators are expected to gather at Times Square, whereas millions are expected to watch this New Year spectacle unfold via the Times Square live stream. The ball drop will be available to watch live online, via an app for iPhones and Android devices.

Sydney Fireworks [Watch Live]
A crowd of 1.5 million are expected at the Sydney Harbour, while another 1.1 billion worldwide will watch the New Year festivities via live telecast from their homes.
Those in Sydney can expect a spectacular show of fireworks comprising of 11,000 aerial shells and 25,000 shooting comets. The pyrotechnics display would light up the skies over Sydney Harbour at 10.30 pm (AEDT). The special midnight New Year show is the most watched. (Watch live). Those watching from Opera House and Harbour Bridge are bound for some good times.

London To Have a 'Fruity' New Year's Eve [Watch Live]
For those celebrating the New Year's Eve in London, it is going to be a 'fruity' time. With fruity flavours, ranging from peach snow, edible banana confetti and orange-scented bubbles, the revellers at London's New Year's Eve celebrations will be treated to a sensory delight.
The revellers at the River Thames will get packs featuring scatch 'n' sniff, LED wristbands and seven kinds of fruit-flavoured sweets. The New Year event will aim to create the "world's first multi-sensory fireworks display" wherein people can not only see the fireworks but also smell and taste it.
While those who just want to bask in the glory of the fireworks can head to Cannon Street, The Roof Gardens, Duck & Waffle,New Year's Eve Boat Parties, Westminster Bridge, Victoria Embankment, Paramount, SkyBar at Millbank Tower or Vertigo 42 to get some great view of the fireworks.

Dubai Aims for World Record [Watch Live]
The New Year celebrations in Dubai will see fireworks launched from over 400 points and will be the most dazzling event of them all. The UAE city wants to celebrate its way into the Guinness Book of World Records. The elaborately choreographed firework show will feature musical soundtracks, accompanying the fireworks. Over 400,000 fireworks will be put to use for celebrating this event, which will be by witnessed by over a million people.

Hong Kong New Year 2014 [Watch Live]
The Chinese Lunar New Year takes place on a different date each year and is totally different from the Gregorian calendar. The New Year 2014, as per the Chinese calendar, will not be on 31 December but one month after - 31 January.
Those in Hong Kong then can look forward to celebrating the Chinese New Year. Hong Kong night parade and the fireworks display are two best things to look out for and are best viewed from Victoria Harbour, in the region between Central and Tsim Sha Tsui. These events can be viewed live either from Hong Kong Tourism Website or Hong Kong Webcams.