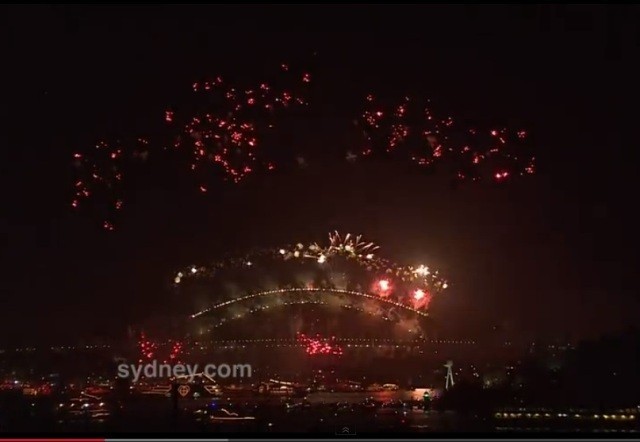 If you have not taken up the best spots at the Sydney shores to watch the spectacular fireworks yet, it may be too late. But don't be disappointed, as you can watch it all live.(click here)
Those in Sydney can expect a spectacular show of fireworks. A pyrotechnics display would light up the skies over Sydney Harbour at 10.30 pm (AEDT), apart from which there will fire shows at 9 pm and the most awaited midnight fireworks. (Watch live)
The fireshow will have 11,000 aerial shells and 25,000 shooting comets that will explode from seven barges spread across six kilometres of Sydney Harbour. The most spectacular fire show will be the 1000 fireworks that will also be shot from the top of the Opera House, Harbour Bridge and jet skis stationed in the harbour.
A crowd of 1.5 million are expected at the Sydney Harbour, while another 1.1 billion worldwide will be watching the Live telecast of the festivities.

An eight hour show of crazy fireworks, musicals and mesmerizing image display has cost the City of Sydney council $6.8 million, but the festivities are expected to bring over $150 million in earnings.
Check out the Sydney New Year's Eve website to find out all the best vantage points to see the displays. There is also an app on the website that can be downloaded to keep up with the latest from Sydney New Year celebrations. Australia is all set to welcome 2014 at the stroke of midnight with a gigantic colourful 12-minute bonanza. Watch it live here.