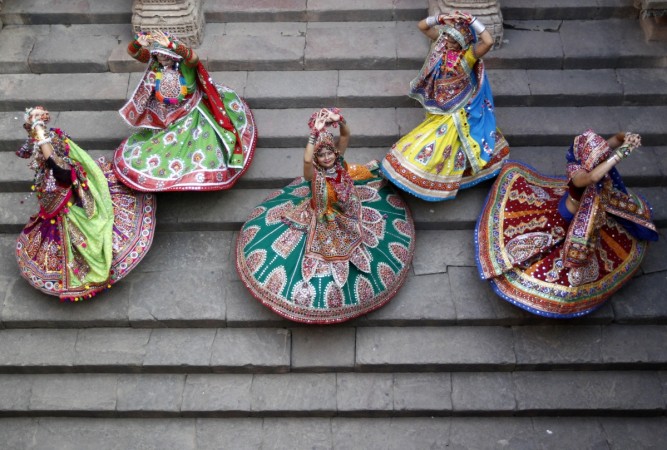 Navratri, which means 'nine nights' in Sanskrit, is a nine-day festival celebrated to worship Goddess Durga. The celebration begins on the first day of the month of Ashvin as per the Hindu calendar, and falls on October 1 this year.
According to Hindu mythology, the festival, also spelled as Navarathri in southern parts of the country, is celebrated to commemorate the victory of Durga, who defeated the demon Mahishasura in a battle that lasted nine nights. Celebrated all over India and Nepal, the festival involves the worship of the nine forms of Devi on each day. It concludes with the festival of Dussehra, which is also known as Vijayadashami, that falls on the 10th day of the festival.
Nine forms of Durga
ÅšailaputrÄ" (daughter of the Himālayas)
BrahmachāriṇÄ" (observes the state of celibacy doing penance)
Chandraghaṇṭā (bears the moon in her necklace )
KÅ"á¹£māṇḍa (the creator of the universe)
Skanda-Mātā (the mother of Skanda, Kārttikeya, who were born out of her powers)
KātyāyanÄ" (the daughter of sage Kātyāyana, who is incarnated to help the Devas)
KālarātrÄ" (destroyer of KālÄ")
MahāgaurÄ" (the wife of Lord Shiva)
SiddhidātrÄ" (provider of Siddhis, giver of mystic powers)
Navratri is also the time for fasting and engaging in prayers as well as celebrating with garba, dandiya and other traditional dance forms.
Top Navratri special Bollywood songs.
On the occasion of the festival, Indian Prime Minister Narendra Modi has extended warm greetings of the day to all the devotees. "नवरात्रि की हार्दिक शुभकामनाएà¤'। My greetings to everyone as the auspicious Navratri commences," the PM tweeted on Saturday.
Check here best wishes, messages and greetings to be shared on Navratri festival:
Nine evenings of party and prayer
May Maa always bless you
May you be free of all the problems you face
Praise Durga each Navratri Day.
Hope this Navratri brings joy and happiness to be shared with your friends and family.
May you be blessed abundantly by the grace of Goddess Durga,
Who brings prosperity in your life that lasts forever.
Happy Navratri wishes.
Here comes the nine nights of spirituality, celebrations, music, dance, garba and stuti. May Maa gives you her divine blessings always. Happy Navratri.
May Durga devi empower you and your family with her nine Swaroopa of name, fame, health, wealth, happiness, humanity, education, bhakti and shakti. Happy Navratri 2016
May the divine blessing be showered on you and your family on the auspicious occasion of Navratri.
May this Navratri brighten up your life with Joy, Wealth and Good Health. Wishing you and your family the greetings of Durga festival
Fortunate is the one who has learned to admire and not to envy. Sending you the greetings and wishes for a joyous Navratri festival.