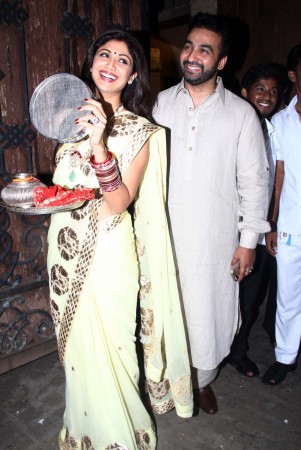 India celebrates Karva Chauth on 30 October this year and the festival is observed mostly in northern parts of the country.
On this occasion, married women fast from sunrise to moon rise for the welfare and longevity of their husbands. Also, many unmarried girls perform the rituals wishing for a good life partner.
They break their fast by looking at the rising moon through a sieve and then at their husband. The women are fed sweets and given a sip of water by their husbands.
'Karva' basically means clay pot and 'chauth' means fourth. This festival is celebrated immediately after the autumn harvest.
Several Bollywood celebs including Shilpa Shetty Kundra, Aishwarya Rai Bachchan, Raveena Tandon, Twinkle Khanna, have been spotted celebrating 'Karva Chauth' over the years.
Some of the stars have even wished their followers and fans on social media.
Below are the tweets:
To all celebrating.. Karvachauth ki shubhkaamnaye ...

— PRIYANKA (@priyankachopra) October 30, 2015
Wish all of u fasting ladies a very happy Karwa Chauth where all ur prayers for ur husbands come true pic.twitter.com/YKXPsV3YxI — Hema Malini (@dreamgirlhema) October 30, 2015
My first #karvachauth Happy #karvachauth to all the women (and men) fasting today - may your fast be short and your marriage long ❤️

— soha ali khan (@sakpataudi) October 30, 2015
T 2042 - OK .. off I go .. need to rest ... dancing and prancing tomorrow at AKRHZ and then there is 'karva chauth' — Amitabh Bachchan (@SrBachchan) October 29, 2015
In true #DDLJ style men should keep #karvachauth fast with their women,or a new fast be started that husbands keep for wives :-)

— kunal kohli (@kunalkohli) October 30, 2015
Happy Karvachauth..Be careful fasting can make you go crazy (our first publicly shared dubsmash) @TheShilpaShetty pic.twitter.com/Vz6PI2yTQw — Raj Kundra (@TheRajKundra) October 30, 2015
Lets hope the moon shows up really early this evening Happy #karvachauth to all the beautiful ladies ☺

— Aishwaryaa.R.Dhanush (@ash_r_dhanush) October 30, 2015
Happy Karvachauth to all the beautiful ladies,happy fasting — Arpita Khan Sharma (@khanarpita) October 30, 2015
Wishing all the girls a v v happy karva chauth today.. Happy fasting

— ameesha patel (@ameesha_patel) October 30, 2015
Happy karwa chauth ❤️ pic.twitter.com/OI4HPY6CkG — Esha Deol (@Esha_Deol) October 30, 2015