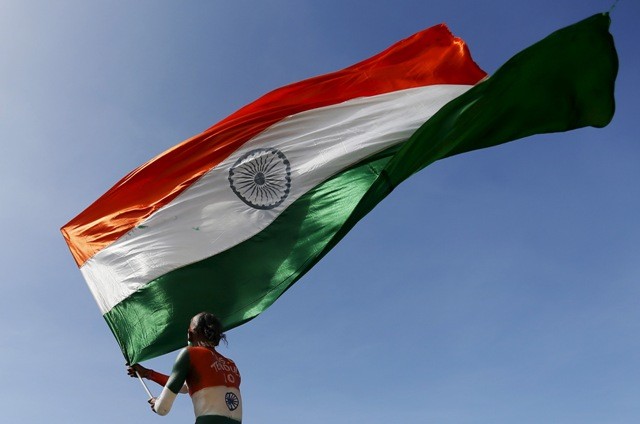 India's 70th Independence Day is just a few days away. Like most other celebrations, Independence Day 2016, which falls on Monday, could be celebrated listening to popular Hindi patriotic songs. While some of them are all-time hits, others have a new-age touch.
While most of the songs are available for free download, you can catch some of the top Hindi patriotic songs (new and old) here to celebrate the 70th Independence Day.
1) "Maa Tujhe Salam": Sung and composed by AR Rahman, this song is filled with emotion, melody and energy. This should not miss your play-list this Independence Day.
2) "Rang De Basanti": This is the title track of the film by the same name. Sung by Daler Mehendi, "Rang De Basanti" is a popular, new-age, patriotic song. It is high on beats and has fun-filled lyrics.
3) "Tu Bhoola Jise": This is among the new Hindi patriotic songs from Bollywood. From the film "Airlift," this video will make you realise the worth of your nationality and what it should mean to you, with a touch of melody.
4) "Suno Gaur Se Duniya Walo": This is another new-age, fun-filled song from the movie "Dus." It is highly energetic and offers a sense of love for the nation. It has been sung by Shankar Mahadevan.
5) "Yeh Jo Desh Hai Tera Swades Hai Tera": This is from the movie "Swades" starring Shah Rukh Khan. A R Rahman's rendition is very soothing to the ear.
6) "Des Mere Des Mere": This is from the film "The Legend of Bhagat Singh." This track highlights how our freedom fighters sacrificed their lives for the nation.
7) "Kandho Se Milte Hain Kandhe": From the movie "Lakshya," this song puts emphasis on the dedication and sacrifice by Indian soldiers. While the lyrics bring out their selflessness and unity, the video shows how happy the soldiers feel serving the nation.
8) "Aisa Des Hai Mera": This song video from "Veer Zaara" shows Shah Rukh Khan pointing to the variety across India in the form of culture, food, scenic beauty, etc.
9) "Bharat Humko Jaan Se Pyara Hai": This is an evergreen patriotic song from the film "Roja." It has beautiful lyrics and touching music.
10) "Dil Diya Hai Jaan Bhi Denge": This song perfectly suits the saying "Old is gold." It is from the film "Karma."